Minoru Sew-Along
December 23rd, 2011
Warning
: Undefined variable $comments in
/home/public/wp-content/themes/inove/single.php
on line
18
Leave a comment
Go to comments
Tasia, of Sewaholic, is hosting a month-long sew-along, beginning January 16th,  featuring her latest pattern, the Minoru jacket.   Here's the illustration from the pattern envelope: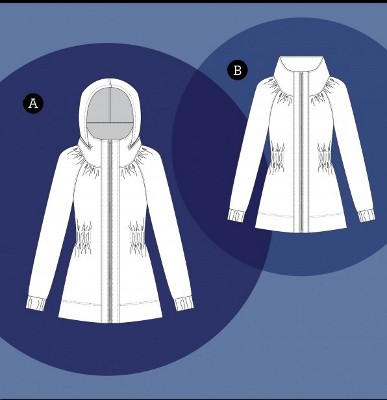 Tasia's patterns seem geared more toward pear-shaped women, and my body type is nearly the opposite.  That shouldn't matter a lot for this style, though.  I'm sure I'll be doing an FBA for this jacket, but I like its lines, that great tall collar, and the hidden hood.  Also, I'm in the mood for a sporty new spring jacket!
I'll be making mine out of a mid-wale purple corduroy, and lining it with a red poly that is printed with, among other things, purple flowers.  I have no idea what I was thinking when I bought the print, but I'm expecting that it will be fun, not horrific, as a lining.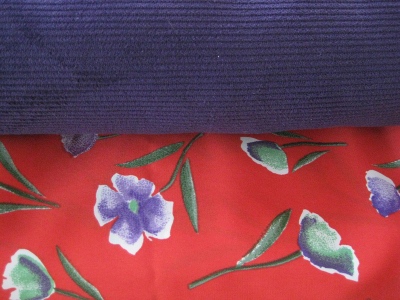 Both cord and the print look blue here, but they're actually a deep purple. According to my Ultimate 3-in-1 Color Tool, the corduroy is 14-17, or, on colorhex.com, it's f1865:

I'll be using bright red zippers; in for a penny, in for a pound. My jacket is meant to be fun, not safe or arty.  (Stash-busting that poly is going to feel good!)  Matching thread was impossible; I settled for a slightly darker Gütermann, which isn't photographing any better than the corduroy: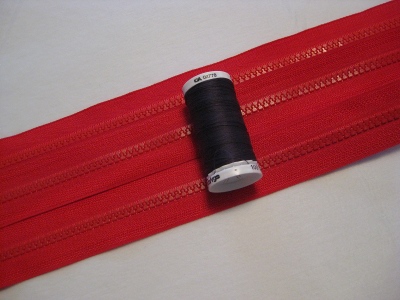 I'm not sure about the gathers at the neck, but I've seen so many marvelous versions of this jacket already that I'm willing to give it a try.  Google "minoru jacket" under "images" and you'll turn up a bunch; Tasia also has a number of them on her website.
The Sewaholic blog is already full of tips for using the pattern, including a tutorial on sewing with waterproof outerwear fabric.
So far I've seen this jacket made in poplin; twill; canvas; a linen-cotton blend; a jersey; and a fine-wale corduroy, every one with a wild and wacky lining.  Inspired?  Stash-busting?  You could make this jacket from almost anything!