Trike and Trekking
Cidell and Trena will not be impressed, but I have a new vehicle (new, that is, as of last fall):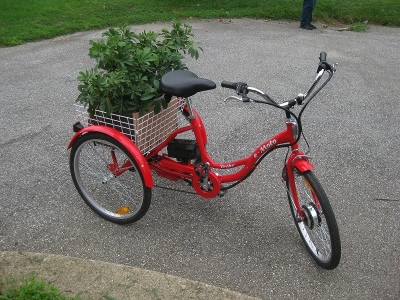 It's my favorite form of transportation around town (though I've also taken it on vacation).  It's much lighter (only 62 pounds) and smaller than any similar vehicle I've seen, and riding it feels amazingly like flying on a two-wheeler.  I love that cargo basket; surprisingly,  it's saved me a bundle in gas.  Who knew?  (The basket, by the way, folds down if you're not carrying cargo.  I almost always am, so mine stays up, but the versatility is  a nice feature.)
The rear basket holds groceries and anything else I need to haul — I've made a few trips to and from the hardware store — but I wanted a way to keep my bike lock in the basket without needing to attach  it to the frame while riding.  I also wanted to be able to carry miscellaneous things without worrying that they might fall out, or through, the basket.
Naturally, then, I made a liner.  It's orange ripstop — not my preferred choice of color, but not many people cycle on the streets where I live; visibility trumped any aesthetic considerations.  I plan to do a more refined version once I know how I'm using it, so I just winged this one.
Here's the layout of the main pattern pieces, along with a fetching picture of my helpful assistant.  The assistant in question is big — the main fabric piece runs about 40 inches from side to side.  The sides of the basket are angled, so I measured top and bottom, and then drew the center strip right on the material — down one side, across the bottom, up the other side — and cut it all in one.  Then I cut the two side panels, and connected them to the center strip.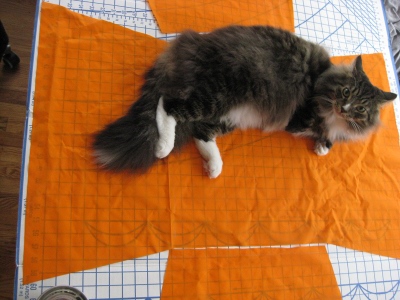 My assistant was a bit put-out when I began sewing, and, I'm afraid, found himself literally "put out" when he insisted on helping more actively.  Let's just say that he 's not a bobbin's best friend.
The liner top was cut to fit across the top of the basket, and attached to the body of the liner with zippers.  Because this was a quick and dirty project, I took rough measurements and cut flanges to go around the top flap, and then connected zippers to them.  The zips are two lightweight robe zippers, and I arranged them so that they open behind the seat, rather than in the back.  It's a nuisance deterrent, like the flaps, so that it's not immediately obvious how the liner opens, and so that it can't be easily accessed from the back of the trike.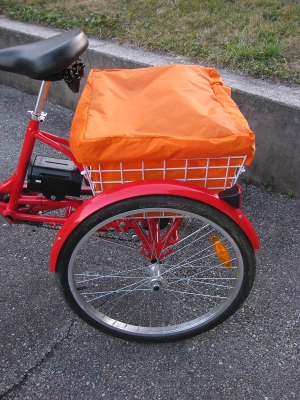 This is one  feeble sewing job, I'm afraid.  Sadly, that flange is not attached carefully at all, thanks to my having whipped this up just before taking off on a bunch of errands that required the liner, stat.  The corners are a mess, with some gathers and puckers instead of neat joints.  (I guess that makes this a usable muslin, right?)  The liner is held in place with hook and  loop fasteners, but I plan to replace them with snaps and snap tabs if I don't remake the whole thing.  The liner costs a bit, aerodynamically speaking, and I'd like to be able to drop it to the bottom of the basket when not carrying cargo, to eliminate wind resistance when the basket isn't full.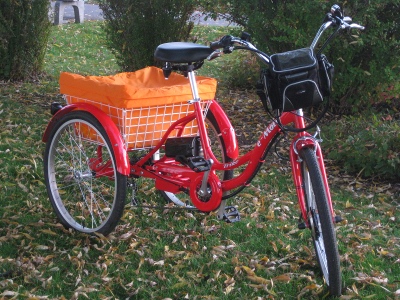 This is a hybrid vehicle, meaning that it has an electric assist, which I thought I'd need regularly, partly because I remember the clunky and incredibly heavy adult trikes of old, which weighed over 100 pounds — which is to say, most of my own body weight.  However,  I rarely use it unless I'm climbing a hill so steep that my current level of physical conditioning can't handle it.
Because of an intermittent balance problem, I thought I'd never pedal again — and I'm thrilled to have been very, very wrong about that.  Though most of my ramblings around town are considerably shorter, I've taken several trips from 12 to 15 miles long, and loved every minute.   That's not at all impressive if you're a serious cyclist, but it's not bad for a former couch potato.  And did I mention that I can break the speed limit in parts of town?  Without electric assist?  (Just call me Hot Dog.)  (OK, I might need a hill in spots, but this is a light trike, and it flies!)
I've been told that this nifty little vehicle is used in refineries, where nimbleness and and the electric motor are necessary advantages.  It's turned out to be the perfect vehicle for me, too.  I love not having to drive into town, and knowing that I'm getting exercise even when I'm picking up human fuel at the grocery store.
By the way, guess which demographic LOVES my red trike?  12-22 year old males — go figure!