Pattern Weights
Dawn, of Two On, Two Off, mentioned After the Dress in her post today, where there is an interesting post about pattern weights. My weights are the crudest, simplest ones available: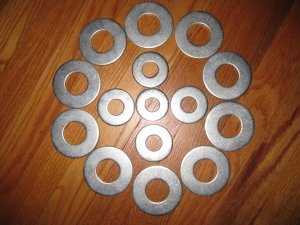 Yep, just giant washers from my local hardware store. For years, I've meant to cover them with Ultrasuede in a rainbow of colors, but now that they live on a pegboard, that's not going to happen, because this is the easiest, most accessible way to store them ever: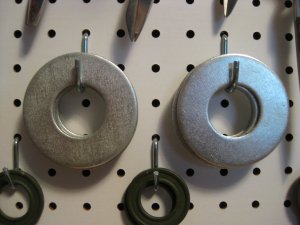 After the Dress has an amusing list of things people use for weights, but what surprised me most is that a lot of people use weights only with rotary cutters. Not me!
Of course, I'm not a quilter, and I tend to think of a rotary cutter as being most useful for cutting long strips of fabric for strip quilting or bindings. I've used my Olfa for rectangular cutting on occasion, but never really gotten comfortable with it. The control my various scissors offer just works best for me.
So I use my weights exclusively with scissors. After years of practice, I get no distortion at all, but I'm also careful not to use the weights near the cutting edge. Instead, I place them at least an inch (and probably closer to two inches) from where my scissor blade will go.
I use a LOT of weights, too, spacing them evenly across the pattern piece, using different sizes depending on whether the area to cut is large or smaller. Then, as I cut, I put my other hand flat against the fabric right next to where I'm cutting.
This method works much better for me than pinning knit fabric, where inevitably there's a slight shift as the scissors move from the point where a pin is to the area adjacent, where there isn't one for a small distance.
I regularly use pattern weights for knits, but find them really indispensable for anything silky. Nothing keeps slippery material from shifting like a few ounces (or even pounds) of strategically placed metal.
After the Dress also mentions Peacock Chic's pack of adorable owl weights, which wouldn't be very convenient to store, but would be great to have cheering you on while you work!