Storage Bag for an Inflatable Bed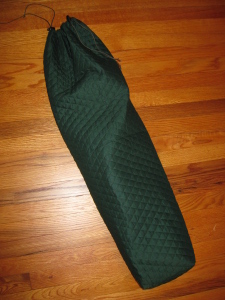 Project three of the new year was a really simple one. An inflatable bed needed a storage sack so that it didn't get punctured while being hauled around. I used a double faced quilt and made this ungainly thing. It's especially wonky-looking because the pump is stuffed in on top. In this household, we've learned to keep all the bits and pieces together. Makes for a much better experience later.
There are two small buttonholes on each side of the top opening. with a single drawstring through the front of the bag, and another drawstring across the back of the bag. It's much easier to open and close the bag with the two strings, instead of using a single one. There's a cord-lock toggle on either side of the opening to keep the strings from disappearing into the casing, and to keep the bag shut neatly.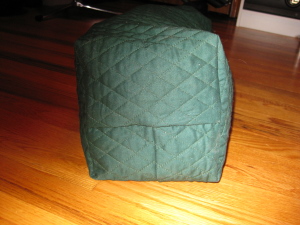 I like a defined bottom on all my bags, since it makes them easier to load gear into, and also easier to store, as they tend to stand upright a bit better. (And they look so much nicer!) It took only a minute to stitch across the corners at the bottom and give the bag some shape.
Seriously bad photo, I'm afraid. I should resolve to do something about my photography skills this year, but I'm hoping to have too much fun sewing instead.