I AM Pan – Second Version
I've previously panned (heh, heh) this pattern in this post, but have attempted another version. It's I AM Pan, from the French company I AM.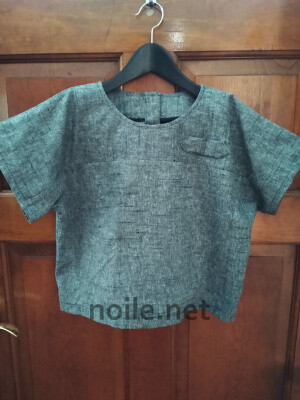 The allure of a woven tee was apparently too much to resist. But I've changed a lot this go-round.
This time I altered the super-wide neckline to make it less likely to slide across my shoulders. This was not completely successful, though, since I didn't quite drop the front enough to keep it from bothering me a bit at the throat. If I make this again — spoiler, I may not — I'll have to re-draft it and the front facing.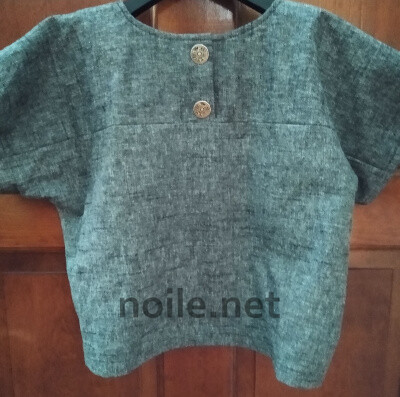 In back, I re-did the placket so that there's actually some support for buttons, and so that it's wide enough to look nice with the buttons I chose.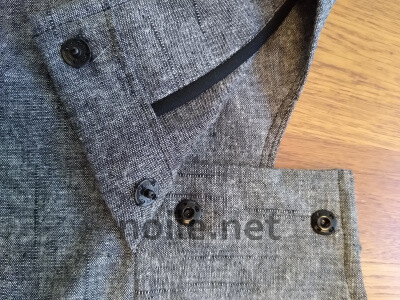 As drafted, the neckline is wide enough that no placket is necessary, but my alteration changed that, so I faced my buttons with snaps, which are easier for me to manipulate at the back than buttonholes are.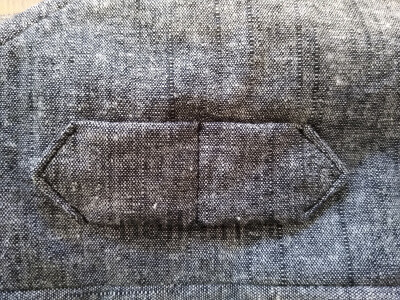 I added a perhaps peculiar little tab to one side so that I could wear pins on this otherwise light top. The tab is three layers deep, with stitching across the middle, so that my fairly heavy pins will stay in place without pulling at the single-layer top itself. The tab isn't very obvious when I don't wear a pin, but works well when I do.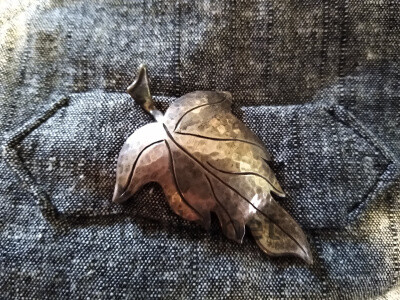 I didn't adjust this pin correctly before taking the photo (hence the pulling up at the lower left), but the tab works just as I hoped it would.
The virtue of this top is that it makes up pretty quickly, and it's easy to wear. Since it's boxy, basically shapeless, and has no darts, it's prefect for wearing sans brassiere if made in a textured fabric, which is all to the good. The pattern's downsides are pretty well documented in my previous post, and I'd still not recommend the pattern. But I guess one could say I've gotten my money's worth — at least in entertainment?