A Woven Tee
I'm always dreaming of a woven tee for all occasions. (OK, for most occasions.) On a visit to my favorite fabric store anywhere — Stitch Sew Shop, in Alexandria, Virginia — I spied the pattern which became this little linen tee.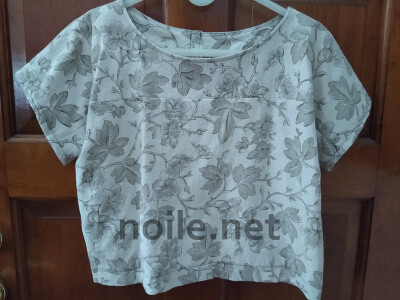 The person who helped me gave an honest appraisal of the pattern when I asked for it — that's real customer service! — so I was able to go ahead with some idea of its limitations.
The pattern is the I AM Pan, from a French company.  The design is very simple, and likely almost any fairly practiced sewist could hand-draw it. I'm lazy about stuff like that, though, and just awful at drafting, so I was happy to start out with a basic plan.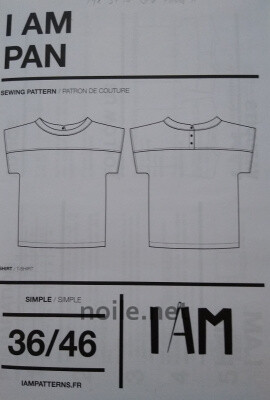 The collar, which looks neat and tidy here, is actually a bit wobbly and floppy as constructed. Since I knew this from reading various reviews and looking at others' tees, I left it off my version and drafted facings (so easy, unlike most drafting!) instead.
The instructions are lean, but, then, it's a pretty simple top. However, the design calls for an overlap in the back, and buttons. I actually like this feature — it's kind of cute, and you'd never guess it's there! — but the overlap is, at least in my opinion, way too skimpy, and would be a real pain if you wanted to use buttons of any size. (And, really, who wants to pull really tiny buttons through buttonholes?)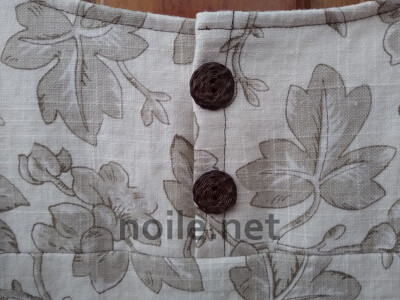 That's a thing, though: There's no need for the opening in the back at all, as the neck's plenty wide enough to get a head through. I sewed my buttons straight through, and just skipped the buttonholes all together. There's also no mention of interfacing for either buttons or buttonholes, which would certainly be a very good idea, if you were making the buttonholes.
The style is definitely boxy — there are no darts, and the yoke and sides are straight lines, with a small curve for each underarm. As a result, it's not really the most flattering style in the world, but, as it turns out, I do love it on very hot days when I'd really not be wearing clothes at all. And in linen, it's the best thing ever!
I made the yoke for a second tee from a small piece of fabric I wove on a triangle loom, the details of which you can see on my weaving blog.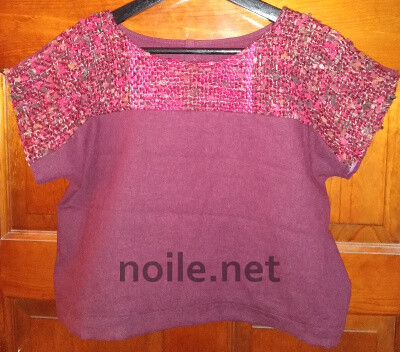 This one, with a linen lower front and back, also has a faux closure on the back.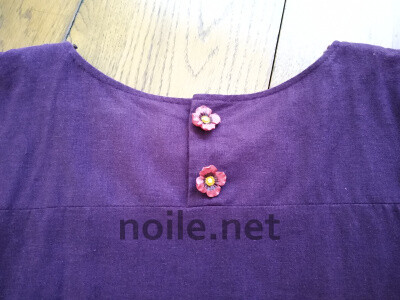 It's burgundy linen. Sigh.
My phone knows nothing about capturing color.
So the pattern's not the greatest; it's very expensive for what it is; and, horrifyingly, the envelope is plastic! Why? And worse, I couldn't get the envelope open without destroying it, so any argument that it was meant to provide permanent storage wasn't going to fly. (I somehow missed the plastic issue before I bought. Blinded, I expect, by the goodness that is Stitch Sew, and the huge collection of indie patterns.)
Not to mention that there is NO sizing or yardage information available on the pattern envelope. That's inconvenient at best, but inexcusable when you need safe-breaking skills to get to the instruction booklet. In my small size, this top is a fabric hog, using a meter/39 inches of 50″/127 cm wide fabric. Maybe more if you're not willing to cut the body crosswise. That's the kind of information you want to know before you break into the pattern envelope.
I'm not sure what the rest of the I AM line is like, but this particular pattern seems hastily put together and very poorly-vetted, so it's not one I'd recommend unless, like me, you're in the mood to experiment won't mind the somewhat sloppy way it's put together. I have to admit that I resented it a little more than I expected to, by the time I was finished. And it's not as if I wasn't warned! But there you go . . . I still wear the tees.