Vogue 1486 Fungi Version
There's a wonderful store in Montreal called MycoBoutique, which is all about the marvelous mushroom. Along with fungi, one can buy all kinds of foraging and collecting equipment, mushrooms themselves, and an assortment of lovely fabrics, all related, in some way, to fungi.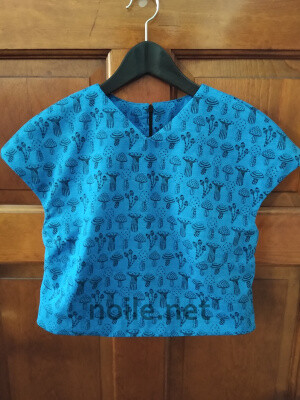 I made my second version of this Vogue 1486 top from a cotton/linen (I think) blend I bought there.
The print is too charming — and the color, in spite of what you see below, which looks like a washed-out gray — is a perfect sky blue, just right to float above mushrooms. The black line drawings let me wear this top with everything black.  Heh, heh: That way I can be both frivolous and serious at the same time.
As I did last time, I put an invisible zipper in the back, and closed the lower hem. I'm not a fan of exposed zippers, and don't want to wear a metal zipper next to my skin, so this is a much better solution for me.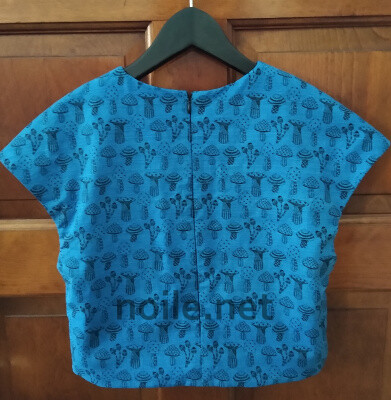 I had a little trouble with the armhole facings when I made this top for the first time, and assumed it was pilot error. When the same thing happened this time, I realized that something was just slightly off, and that it appeared to be Vogue's issue.
The facing does not quite fit correctly around the unusual angle of the underarm, and may be microscopically smaller than the top itself. In both cases, I was able to make it work, but next time, I'll re-draft the armhole facings and see if that gives a better result.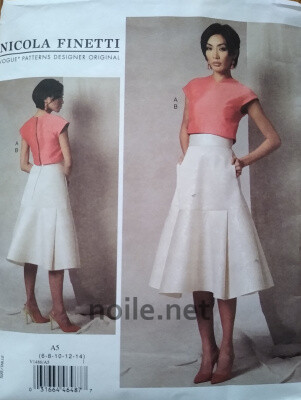 Years ago, I had no trouble at all remembering pattern numbers, but now I count on remembering the envelopes, so I always appreciate seeing those in review posts — here's this one!