Burda 6124 The Summer Tweed Version
I liked wearing these pants a lot when I first made them, but ended up pretty much hating the super-deep clown pockets. The pattern is Burda 6124.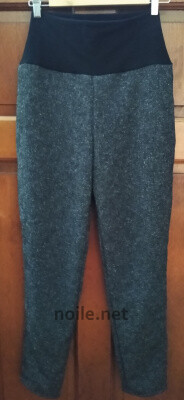 For my second pair, I drafted in-seam pockets, and I'm a lot happier with them.
These pants have the huge virtues of wearing like sweatpants, or joggers, or any other pant than is practically pyjama-like (though better fitting), along with that super comfy knit waistband — even though they're made out of woven fabric.
They're just slightly roomy through the hips, but not sloppily so, and taper down to the ankle. I made this pair in another odd fabric — I bought it so long ago that I can't remember where, and have no idea of the fiber content. It's tweedy in appearance, but lightweight, and has the slightest bit of stretch, as well as a really lovely drape. The effect of the drape is pretty much lost when sewn up like this (maybe this fabric should have been a waterfall jacket?), but the essential qualities of the material only add to the comfort of the pants.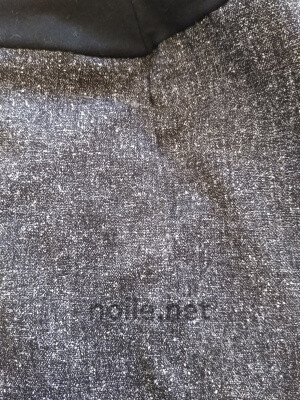 For this pair I just made simple in-seam pockets (hardly visible here). The original pockets extend across the front of the pants and meet at the center front seam, which maybe made sense when the pockets went most of the way to my knees? When I drafted this change, I kept that yoke, but it was a mistake, since all it means is that I have a second layer of cloth across my front — and an unnecessary bit of bulk. Next time, I'll just use a conventional pocket draft so that it's not an issue.
Previous version: Burda 6124 Stretch-Top Slacks