Simplicity 2482, A Hoodie Dress Mash-Up
My beloved robe is falling to pieces and resisting all attempts to necessitate it. This is what I made to convince myself to retire my beloved old friend: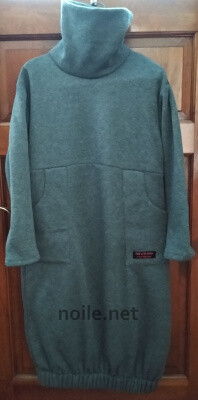 "Very Benedictine" said Mr. Noile.
To make it, I hauled out Simplicity 2482, from 2009, and set to work.
This Simplicity pattern, in my stash since it first came out, is not exactly what I wanted, though, and it took a long time for various ideas to percolate and coalesce into my final version, which is a hybrid of the Simplicity pattern, and The Assembly Line's Hoodie Dress.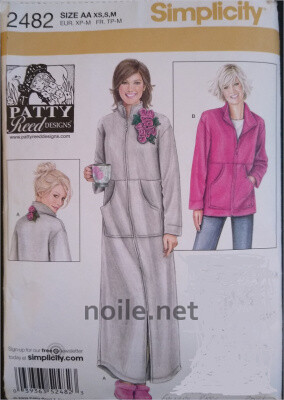 I didn't want the long front zipper, or the collar, or the extra-long length, or the curved hem of the Simplicity pattern. I didn't want the hood on the Assembly Line pattern, or the more fitted, darted, sleeves, or the bust dart. Neither pattern, alone, was going to do the trick.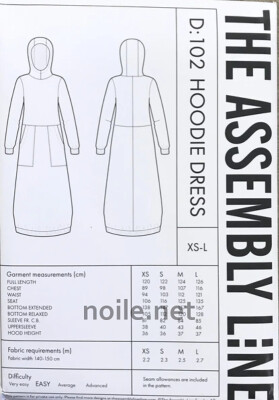 Once I'd combined all the elements I did want, I ended up with a cowl-collared, slightly dropped sleeved, smooth-front garment with deep pockets and a higher, elasticized hem.
This gave me the best of both worlds, without all the unnecessary unwanted details — and an easy-to-wear garment that's cozy and cuddly — and, not incidentally, one that's really quick to make up. Without any fastenings or facings, putting this garment together takes no time at all, once the changes are made to the pattern.
I did line the pockets, though, since that keeps them from bagging out over time. Moving them to the side seam made installation simpler than it is for fully patch pockets, and I took a clue from the Hoodie Dress and narrowed their profile, too, so that the proportions are more attractive.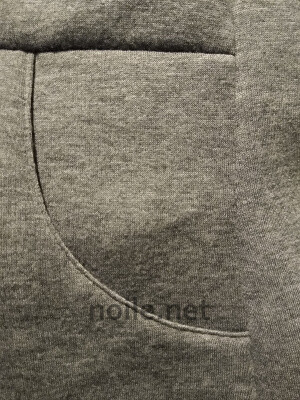 The Simplicity pockets
have a really nice curve.
For the hem, I used 2 in/5 cm elastic, pulling the skirt in just slightly, making sure I could still walk easily. The Simplicity skirt is absolutely straight; I made mine A-lined. It's not as nice as the fuller Assembly Line style, which is more bell-shaped, but worked with the fabric I had on hand.
The cowl was cut to about 16.75 inches (42.5 cm) by 25 inches (63.5), with a center back, 5/8ths (1.5 cm) seam, and a 5/8ths (1.5 cm) seam at the neckline. I used the Simplicity neck cutting line, once I'd determined that I could slip it over my head.
Several reviewers have mentioned that the Simplicity pattern is hugely over-sized. I agree! I made size XS, but at 5'2″ (157 cm) and 120 lbs (54.4 kg/8.5 stone), my body measurements are much bigger than the ones Simplicity gives, on this pattern, for size XS — and I'm nearly drowning in this XS! In this case, it's fine — it's a robe! — but a size chart that far off is no one's friend.
The fabric is from the Laval Club Tissus store, in Montreal, bought in person before Covid Times. It may have a slight polyester component, but the looped "wrong" side is all soft, dreamy cotton, and lovely to wear, particularly in a robe-type garment. It also washes beautifully and doesn't retain water which has to be spun out separately, unlike my ancient microfiber robe, which, as we have learned, since my purchase years ago, is problematic for all sorts of environmental reasons.