Well, yeah, I did.  The Internet's a strange place.
Still AWOL over here, I'm afraid.  Various projects have left our house a disaster (and will continue to do so for another couple of weeks), and I've spent a week in New York City in the meantime (can you blame me??).  But I'm back just for this post because the website Jezebel (weirdly!) has what looks like a great tutorial on making a dress form.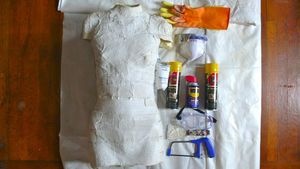 Today's post is only part one, with part two promised for next week.  Except for the time involved, this looks surprisingly "doable", and should result in a dummy that replicates your shape better than anything you could reasonably buy (or make via other methods), and with what I hope is a sturdy foam core.  I'm seriously tempted to try it, just as soon as I have fifteen hours to myself.  Oh, and a house again.
Related:  Jezebel Dress Form, Part 2