Presser Feet From Budapest
Ah, Budapest, I love you!  Along with a slew of old Burdas, look at what else I found: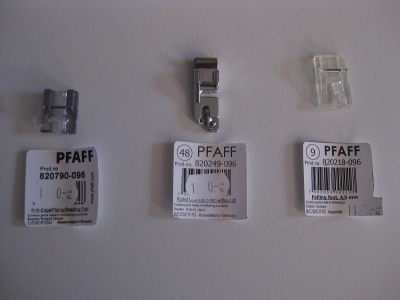 Three new feet for my Pfaff 1229!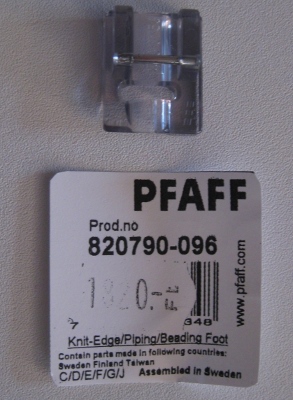 This one is a "Knit Edge/Piping/Beading Foot".  According to my Pfaff accessory catalog, "[t]he Knit edge Foot has sides of different heights, making it simple to sew thick seams on knits and fur".  The groove in the bottom also makes it possible to attach bead strands and piping.
This one is a 3 mm rolled hem foot.  "[Y]ou can hem light to medium weight fabrics for clothing and home decorating items without having to pre-iron the fabric edges".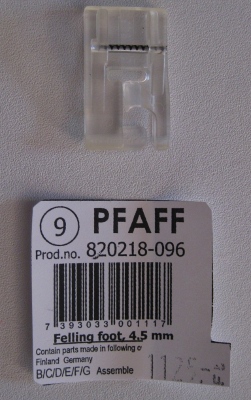 And this one is a 4,5 mm felling foot.  "Flat-felled seams are extremely durable and popular as the typical jeans seams."  This one is for lightweight fabrics; I'll need the 6,5 size if I want to sew denim or heavier fabrics.
My Pfaff 1229 takes accessories marked "D"; I was lucky to find a mechanic at the shop in Budapest who knew what I wanted, especially since I don't speak Hungarian and he didn't speak English!  I found a machine on the back wall with my shank, and gestured to explain the rest.  It worked out beautifully — there's a lot to be said for good will and the kindness of strangers!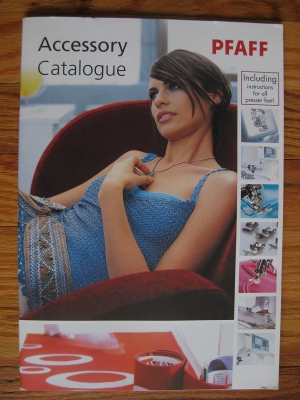 My Pfaff Accessory Catalogue, gift of another kind (stateside) mechanic, is a treasure-trove not only because it lists the various feet, but because it also includes instructions for using them.  Snap it up if you find one!