What's Wrong With This Picture? (UPDATE)
(Other than the fact that what's wrong is not too obvious from my less-than perfect photo?)
12/29/10 — UPDATE:  OH, SO MUCH LESS IS WRONG THAN I THOUGHT!!!!  Friends, I have wallowed in ignorance, and I have whined and puled about this screwdriver unfairly.  MEA CULPA!  And, to Baby Lock, my sincere apology.
This screwdriver is NOT supposed to fit into the rear screw on my serger.  The rear screw is a stabilizing device, used solely to hold the plate in place.  When changing the plate, one unscrews only the front screw, and lifts the plate upward without disturbing the rear screw.  Somehow I missed this.
Learn from my mistake — take the free class offered by your sewing store.  And don't write any blog posts until you have.
This is the screwdriver that came with my Baby Lock Lauren serger.  It's a little difficult to see here, but you can't actually fit the supplied screwdriver into the rear screw.  That's because the screwdriver is too long, and can't reach the screw without banging into the serger.  (12/29/10 — AND, DUH, IT'S BECAUSE YOU'RE NOT SUPPOSED TO REACH THE SCREW!  Sigh.  I'd really rather be infallible, but hey .  .  . )
You can completely forget about fitting the screwdriver blade into the screw; that's not going to happen — and if you jam it in partway, at an angle, to make it fit, and try to use it like that, you're risking stripping the screw head, which is not good.
My screwdriver is probably just like the one supplied with your serger, and just about as useful.   Nicely done, Baby Lock; this is truly idiotic.  Is there some law that requires manufacturers to just throw any old screwdriver into accessory kits?  I'm quite sure that Baby Lock is not alone in committing this particular transgression.
Here's what you need instead. It's called a "thumb screwdriver", and it's perfect for tight spaces just like this: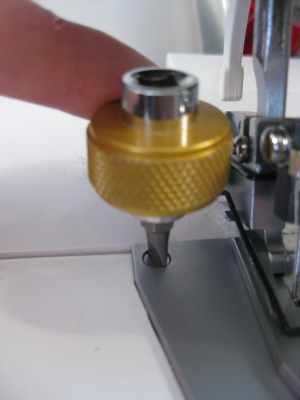 You can get them at any hardware store, and they aren't even expensive.  Just really, really useful.  Mine takes drill bits, so I can slap in whatever screwdriver size or type point I want to use.  I'm propping it up for the photo, but, of course, you'd normally hold it between thumb and index finger and just turn it.
This one is  made of metal and has a nicer-than-most gripping surface; it's a little harder to find than the ones with plastic handles, but a generally better tool.  Worth the search, in my book.
An alternative is the "angle screwdriver" which usually comes with a slot head on one end and a Phillips head on the other:

It's not quite as easy to use in a space like the one on my serger, but it will work in that kind of small space, and it's very handy around the house in general, as well as in the sewing room.  Also available everywhere, except, of course, in your mfg-supplied sewing machine accessory box!
Related: