Polo-Palooza!
I finished a whole slew of my very favorite fall/winter tops just before taking a recent trip.  These are polos (those of us in the USA would probably call them "turtlenecks")  from BurdaStyle's 09/2010 issue, pattern number 121: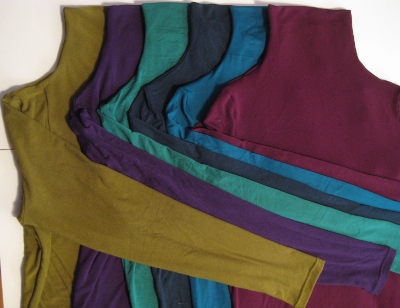 They're all made in some variation of JoAnn's silky polyester/rayon knit, which has the distinction of being the only fabric I've bought at JoAnn's that hasn't had some unfortunate issue.  (The only issue with these cuts was the careless chopping done by the sales person at the cutting table, but that's for another day.)  These tops weigh nothing, and roll up so compactly that I could have packed ten of them if I'd wanted to!  The colors are deep and rich, and the fabric's very nice to wear — perfect for everyday or traveling, all-around.
I used my new serger to add stabilizing tape, about six inches of it, to each shoulder seam.  There's a slot in the presser foot that perfectly feeds 1/4 inch twill tape under the foot so that it's sewed automatically into the seam.  This process could not have been easier.  Whoo-hoo!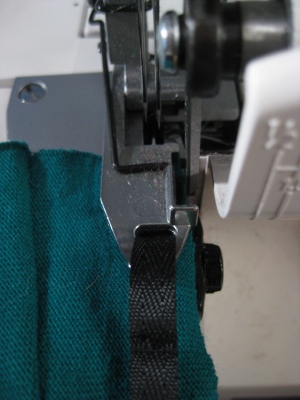 Summerset Banks  has a fantastic (and illustrated!) explanation of a great finish for this collar, and I used it on each of these shirts.  Check it out if you're making this pattern; you'll be glad you did.
Summerset also suggests tagging the back of the shirt, which is good advice, since it's almost impossible to tell the fronts from backs at first glance.  She uses a little bit of folded ribbon, but I dislike tags, so I just added a short, white, line of zigzag stitches.  I can spot these easily inside the tops.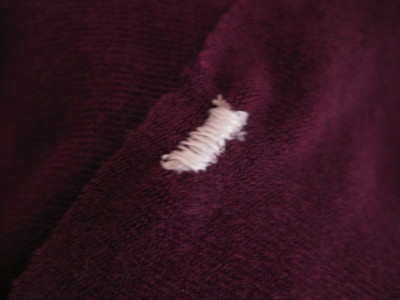 This assembly line was also a chance to use one of my ancillary presser feet:  Pfaff's "seam guide foot with IDT", which  made short work of my hems.  It's got a small blade-like edge on one side, and seam allowance markings all along the very wide foot: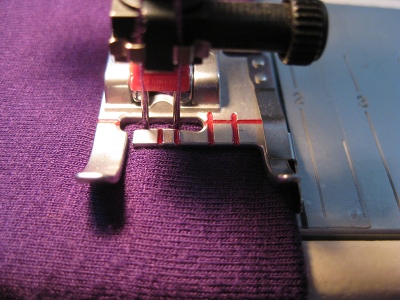 I wouldn't call this exactly a necessary accessory, but it really is an incredibly efficient way to keep my hem stitches the same precise distance away from the edges.  When whipping out multiple items as rapidly as possible, this is a great advantage.  If things get too rote, my mind tends to go numb; this is an antidote to forgetting exactly where I should be stitching that hem.
Related: Burda "Polo" #121 09/2010