A couple of months ago, I made a red, black and white version of this convertible hood/shawl/scarf, and not long after that, this very different version, for a gift: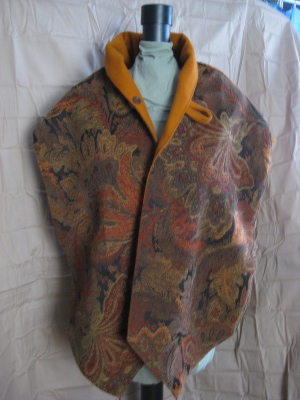 A peculiar sensitivity prevented me from donning this garment (I thought that honor should go to the recipient!), so I don't have any photos showing what it looks like with the hood buttoned into shape.  However, I did take a few shots of the wearing variations before I sent it off:
The tapestry is a cotton blend, which I washed in cold water before using.  It's amazing how often you can get away with this, and what a nice fabric results — one very suitable for garments!
Here's the shawl collar version with the tapestry folded back:
The burnt orange side is a lovely wool flannel — nice and warm, but not too thick.  It's about the thickness of old-school heavy cotton flannel.
You get a very different effect by folding the flannel back to form a shawl collar: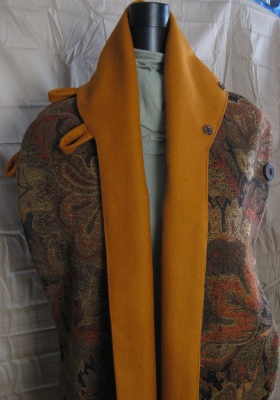 Overlapping the fronts gives an almost jacket-like look (and makes for a very cozy torso in weather that only requires, say, a sweater on your arms):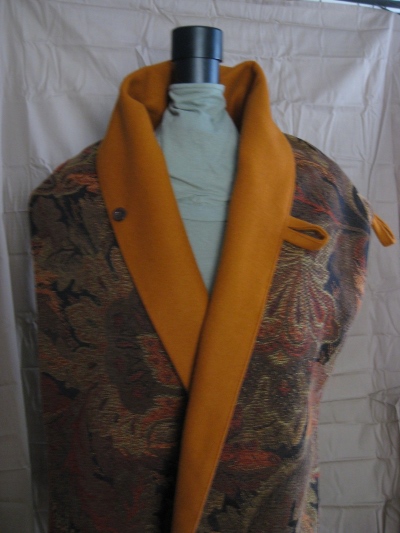 You can see a little bit of the shape of the hood itself below, although it's folded.  Like my other version, this one has tassels at the end of each front piece, as well as on the point of the hood.  However, since I was mailing this one, I kept the cello sleeves on the tassels so that they wouldn't be crushed or mussed in transit.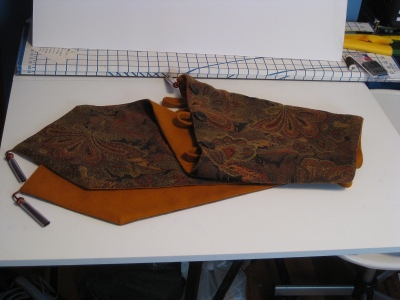 You can see the triple set of loops along the left.  They button to the other side to form the hood.
In retrospect, I'd probably use something else — maybe even grosgrain ribbon — for the loops.  The flannel is a wonderful fabric, but it did make fairly bulky loops.  Grosgrain, or something of a similar weight, might be a little less obtrusive and, maybe, a little easier to button.
Choosing notions for a project like this is a lot of fun!  I chose wood buttons with a little bit of detail for the tapestry side: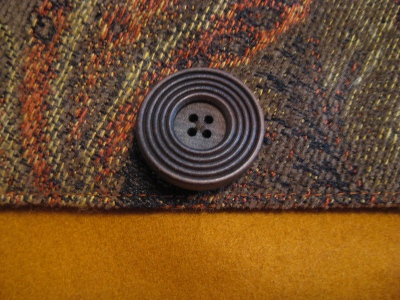 I used these "tortoise shell" buttons on the flannel side so that there wouldn't be bare stitches showing: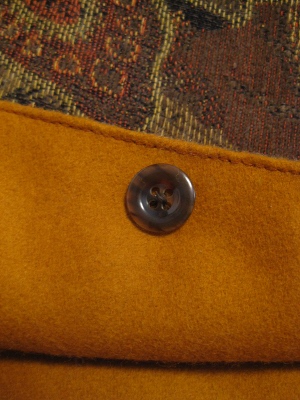 By some miracle, I was able to find tassels in an almost-perfect color; that was the most difficult part of this project!
When I  made the previous version, I discovered that the tassels came unravelled immediately, so this time I used a combination of fray check and some carefully placed stitches to prevent disintegration.
I'd never have thought about making these if it hadn't been for Nadine's wonderful blog, Mes petites mains . . .  pleines de doigts, which is full of imaginative, delightful garments, including many versions of her luticharpe.  Check out her excellent tutorial and pattern instructions, too.
This is a wonderfully quick and satisfying project for days when you just want to make something, but don't want to start a month-long project.  And what could you wear that is more perfect for the winter-spring season change?
Nadine asks that you send her a picture of your capuche-écharpe if you use her tutorial.  Please do!  It's a wonderful way to say thank you.
Related:  Little Corduroy Riding Hood