TSA-Friendly Belt
Ah, TSA.  How you've changed our lives.  How difficult you've made it to travel in normal, human, clothing.  For an upcoming trip, I am wearing a t-shirt tunic and leggings on the plane because that will get me through screening more expeditiously than anything else, and because, after surviving the horror that is the modern airport, I want to feel comfortable once I'm in that tin tube.
I'd rather be wearing pjs, but, hey, this is the closest I can get.  In a concession to not looking as if I'd just dressed for breakfast, I'll be wearing a belt.  Not an interesting belt, and, heaven knows, not a belt with any metal — enemy of TSA — in it.  I'll be wearing this belt: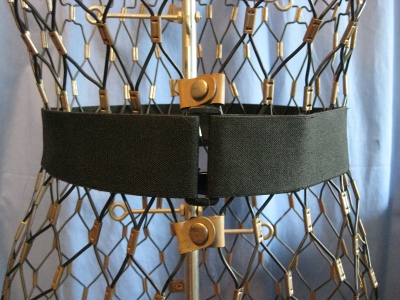 It's elastic, 1 1/2 inches wide, with what is called a "ladder buckle" connecting the ends.  Here are the components: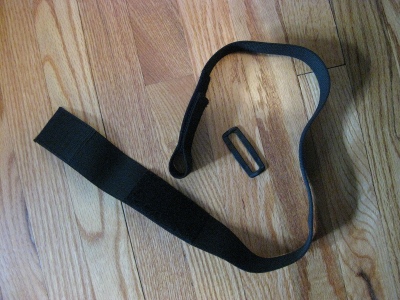 I sewed heavy-duty hook-and-loop tape, as wide as the elastic, to each end of the belt, making sure to leave a lot of room for adjustment.  Once actually on board I don't want to end up bifurcated by a too-tight elastic band around my waist, so being able to readjust the size without depending on the elastic alone was a must.
It doesn't bother me to wear the flat buckle in the back, so I can wear the belt as it is above on Miss Bedelia, or turned around so that it looks like a contrast waistband, or a plain elastic cincher.
You can buy ladder buckles at most (if not all) EMS stores (they're behind the counter, ask to see the delrin or nylon buckles), at REI, and at  sporting goods/adventure stores that sell webbing.  They're often on a rack by luggage or camping gear.