Thrift Store Rescue: Jacket Repair
Sometime back in 2008, I saw this jacket at a thrift shop, and fell in love with it.  Why?  Because it's weird, that's why.  It's a kooky variation on what used to be a classic Columbia winter jacket.  This one is made of the same clear nylon jade/purple/black colors, and has the typical color-patching, but it's a pullover, and the cut is much trimmer than a typical Columbia-type jacket.
It also has zippers all over the place:  under that snap placket; at the center front (the fit's so trim that you'd need to unzip to run); under each arm; and up one side.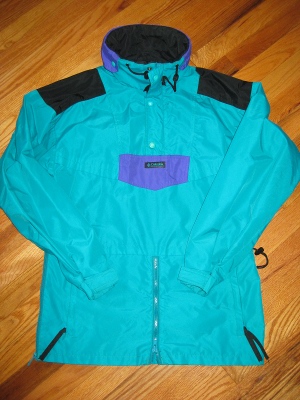 The problem was that much of the hem had pulled out, and the nylon lining, naturally, had begun to disintegrate.  Not so badly that it couldn't be fixed, though.  I was pretty sure that, among the very few non-sparkly woven trims at JoAnn, I remembered one with jewel tones not unlike those in this jacket:

Not only were the colors compatible, but the pattern seemed just about perfect, too.  Here it is sewn in  place on the coat: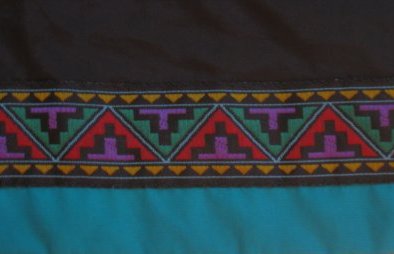 In the few spots where the lining had unraveled especially badly, the trim was just wide enough to bridge the gap.  I sewed it in place with tiny, nearly invisible stitches, since I didn't want stitching lines on the front.
The new trim not only solved the problem, but made the inside just as full of crisp, sporty pizazz as the exterior: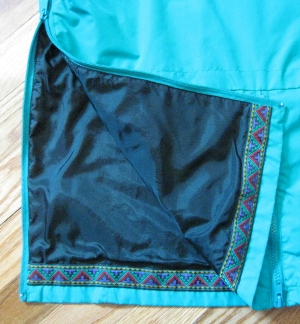 You'd never know that the frazzled lining had almost turned this jacket into a discard.  Now it's my favorite early fall, late spring coat.