Quick Belt
When I made Vogue 1088 recently, I wasn't very happy with the belt I used in the photos.  It was one I picked up for next to nothing because it was the easiest way to buy a buckle to play with.  It's some kind of vinyl, with a pearly sheen.  (Maybe it's supposed to look metallic?)  Here it is on the dress: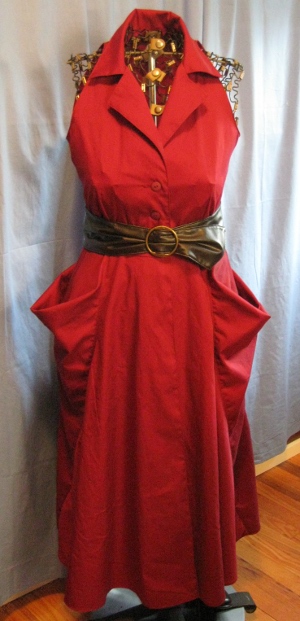 The metal buckle was all wrong (and so was the vinyl), but I kind of liked this style of belt with this dress, though, so I combined some faux linen and a rectangular plastic buckle I got at M&J, and came up with this:

(Whoops –normally that button would be, well, actually buttoned.  My bad.)
It couldn't have been easier:  I cut the fabric to the length and width I wanted, angling one end (and adding a seam allowance, of course); chose a light interfacing with some body; stitched it all together, leaving one end open; edgestitched; closed the straight end, wrapped it around the buckle's center bar; stitched the end down, and that was it.
I really like it on the dress, and I love the shape of this buckle, but I wish it were, say, enameled wood or even just a better quality plastic.  It'll do for now, though, and the belt is just as comfortable to wear as the dress is.