Whimsical Purse Mod
I love Baggallini purses; there's one for (almost) every occasion, and I own way too many as a result.  Usually I want a purse that can be used as a shopping bag as well as a handbag, and Baggallini has plenty of those, but sometimes I want the most minimal thing possible.  That would be Baggallini's surprisingly well-thought-out Teenee Baggallini.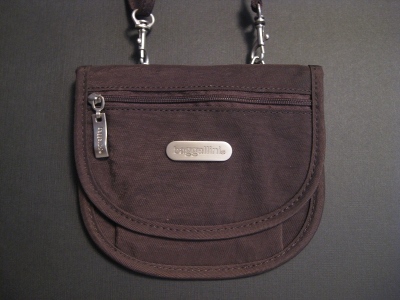 What I don't like on this small bag, though, is that metal plate on the front.  It snags inside my purses when I use the Teenee as a wallet, and it adds an unwanted few ounces when I'm wearing it cross-body.  So I remove them.  This is tricky, but possible if you're careful.
First I take a small, thin, screwdriver and carefully lift the plate from the front of the bag.  Then I cut a very, very small slit in the lining behind the nameplate and gently pull the logo support from the back, on the inside.
This leaves two holes in the front of the bag, and a small slit in the back.  I use a bit of clear repair tape over the slit in the back ( you can buy it at camping/recreational supply stores).  Because these bags are kicky and fun, I cover the two holes left in the front with an embroidered patch from Demeritwear.
Here is the cookies and milk  badge for my orange bag: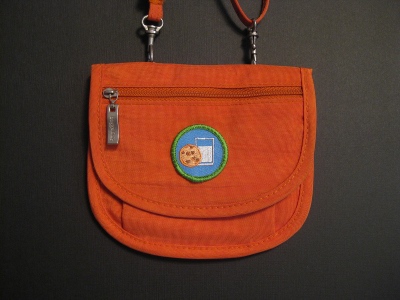 I choose this one for the color, of course, but I also for the whimsy of the motif.  The embroidery is bright and clear; the patches are meant to be ironed-on, but I hate ironing stuff, so I just stitch them in place.
If you don't know Demeritwear, you should!  They make cheerful, kooky, silly and yes, even dippy, little "merit badge" patches for all occasions.  (Theoretically they are "demerit badges" — maybe because scouting has the originals all wrapped up? — and there's a story, but it's not necessary to go into that here.  Check out the website if you're curious.)
These nicely made embroidered badges would be fun as faux buttons on tee shirt shoulders (or amusing faux epaulet-like decorations) , as identifiers on kids' back packs or lunch bags, as logos on jackets, hoodies, or sweatshirts, or as a decorative touch on rear jeans pockets.  I use them on and in my packing system, too, so that I can tell what's in my packing cubes.
Other ways I've used these badges:

Disclosure:  Please read it a the bottom of the Case Mod post.