ABdPM 40033: Tank Dress With Contrast Skirt
This is another pattern from the wonderful French company Au Bonheur des Petites Mains.  Here's my dress: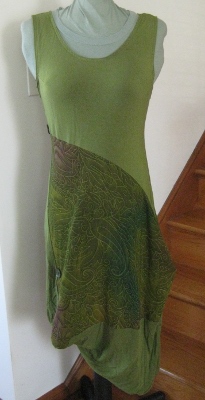 And here's ABdPM's version (from their defunct website)::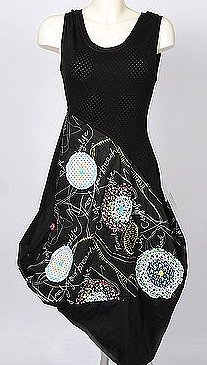 This pattern didn't come in the box-style case of my previous ABdPM patterns; instead there was a folder in a cello sleeve: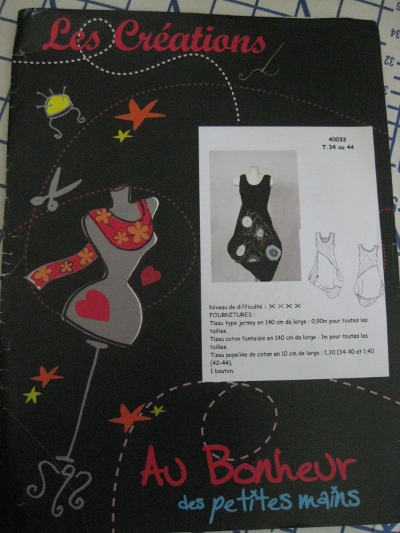 The folder isn't as much fun as the box, but the folder is really a lot more practical, and probably a bunch cheaper to mail to North America than the previous packaging was.  The post on patterns from other continents tends to be terribly expensive, even for lightweight stuff.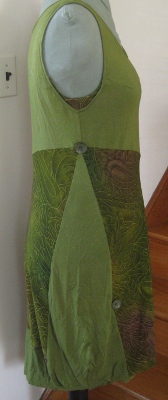 I'd thought, from seeing it on the Au Bonheur website, that the skirt must be a balloon-type, but the pouf at the hem is made using a gore on the left side with a deep dart in it,  cutting the rest of the skirt asymmetrically,  then tucking up the lower edge.  There's a button on the lower right that holds the lifted hem in place.  It's the button to the right, above.
Here's the back view (at an odd angle, sorry, but you can see the fullness of the skirt better this way):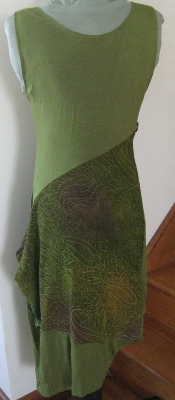 Once I got oriented, this dress was actually simple to construct.  There's a bodice, a mid-skirt, a lower skirt, and a triangular gore on the left side.    Assembly is pretty basic,  just attaching each layer to the next, so there really aren't any serious sewing challenges here.
However, there are a few other oddities — like, what on earth is this side of the skirt supposed to do?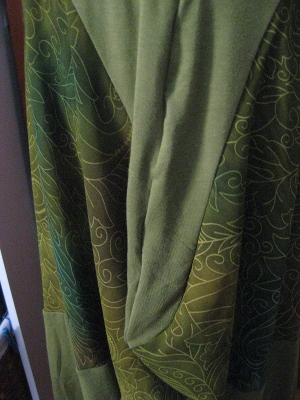 The bodice drops below the waist on one side in a sort of a prong shape; you join the front and back here, and then the mid section of the skirt. And then .  .  . major drooping.  It wasn't interesting, it was just limp.  Is it me?  Is it the pattern?  I don't know , but I'm very happy with the fix, which was to pull up the droop, form a tuck, and tack a button to hold it  in place:
I liked the result, and it looks a whole lot better worn than the peculiar droop — although maybe the "prong" would have worked if my lower skirt were a more stable woven?  (Which is actually what the pattern calls for, so this result is probably squarely on my fabric choice.)
I used a third strategic button.  This version was meant as a sort of a muslin (when will I learn?), and I assembled it entirely on my serger.   So I didn't baste where many seams met at the side — and I hate mis-matched seams!  It was only off by a very little bit, but no way was I going to unpick the serging, though, so I disguised the problem with a button: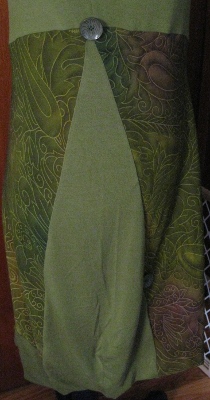 This is the triangular insert on the left side.
Directions are sketchy, even if you read French, and the trickiest part is figuring out which pieces you cut from which fabric.  ABdPM uses a knit for the top section, a "fantasie" woven contrast for the main part of the skirt, and a solid woven for the smaller/lower skirt pieces.
I used a lycra/rayon knit for both the top and the smaller/lower  pieces, and a chiffon for the draped panels, underlying it so that the skirt wouldn't be transparent.
I still have no idea how ABdPM means to have the armholes and neck finished — at one point, the directions just say "finish the garment"!  — and I decided to use bias tape.  I'm not happy about it; next time I'll line the bodice instead.  At one time I could do anything at all with bias tape, but with several permanently damaged fingers I don't quite have the control I used to.  Bah!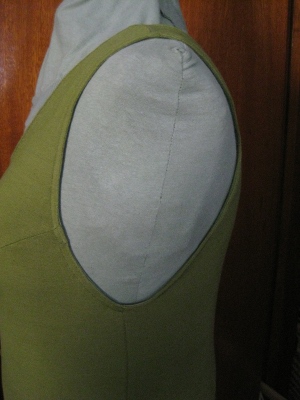 The armhole is quite deep; too deep for me, and unfortunately I didn't notice this in time to cut it correctly.  I wear humungo-bras instead of cute little French ones, so I ended up adding inserts to raise the edge of the dress.  It's not something I would normally recommend, but I think I got away with it on this dress.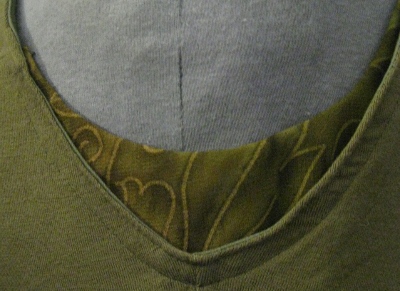 Another fit note:  Before the hem is tucked up, the dress is very long.  The longest point nearly touched the floor when the dress was on my dummy, which is just a little taller than I am.   I was highly dubious when I realized just how long it really was, though I love the final result.
ABdPM patterns are printed without seam allowances; I put a non-woven, sheer grid over the pattern and traced my seam allowances onto the grid, marking any additional information I needed about each pattern piece as I went.  I used the non-woven pattern pieces as a muslin, and then used them to cut out my fabric.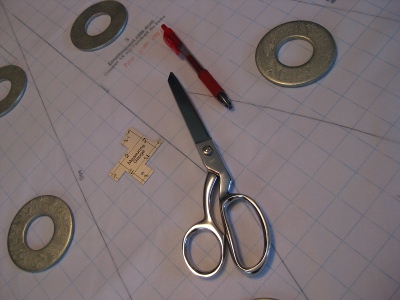 Anyone sews with Au Bonheur patterns will find  Shams' glossary to be very helpful; she's the go-to person for ABdPM info.  Read it through, and refer to it, and you'll be able to figure out most of what you need to know; Google Translate is helpful, too, but you may need some background in French to work things out if you're not a relatively experienced sewist.
Sadly, Au Bonheur apparently went out of business in 2011.  I'm glad that I bought a slew of their patterns as soon as they were available — that's a good rule of thumb when buying from independent pattern companies whose lifespan may be short.