Customized Zipper Pull for My Minoru
I like to have an extension on the zippers I use, particularly if I may wear gloves when trying to open them, or if the pockets are inside, and a little tricky to get to.  But the plain black tabs that can be purchased at places like REI or EMS are sometimes just too boring.  I like a little hidden pizazz: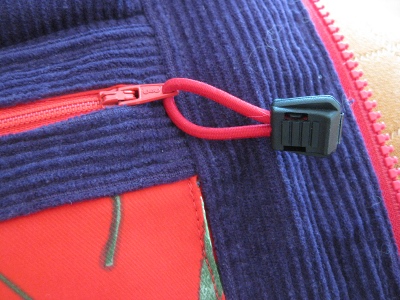 These tabs are actually very easy to customize.  Here's what the they look like, straight from the package: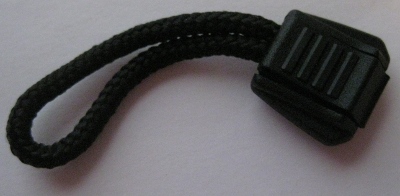 All you do is pry open the tab, pull out the cord it came with, and then replace the cord with whatever color you wish, and pinch the tab back together.  You'll have to set the cord in the channels in the tab precisely, but that's easy to do,  with a little care.
If you're replacement cord is too thick to pull through the zipper pull  in a doubled loop, run a single strand of cord right through the hole in the zipper pull, then pinch the tab together.  That's what I did for the inside pockets on my Minoru jacket.