Toaster Sweater 1
Count me as one of those who looked at this pattern and who said "um, noooo, never". Well, never has arrived . . . and it's pretty cool. Or warm. Or cozy and just right . . .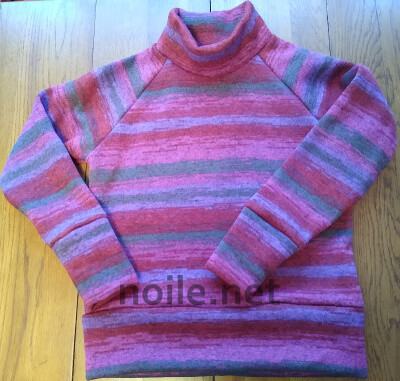 What happened? Well, Sheltering-In-Place, I guess, with a renewed interest in comfortable clothes, reduced bandwith for complicated projects, and basically nothing to work with except stash. So I made up Toaster 1, from Sew House Seven's two-Toaster printed pattern, and am so impressed! This pattern is so well-drafted that's it's an easy, fool-proof one-hour bundle of instant gratification.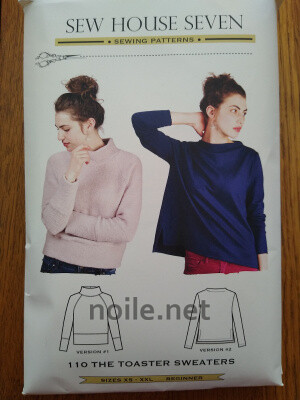 Naturally, I had to make it a bit more difficult, but not by much. Compulsive research suggested that I'd want a little more length in the torso, so I added two inches there. Next time, though, I'll probably take one of my added inches off the torso, and then take one off the hem band — my alteration led to a slight bit of pooling above the hip, and the band is maybe just a little too wide for my short (5'2″/157 cm) self, especially since my Toaster isn't quite as cropped as it's designed to be.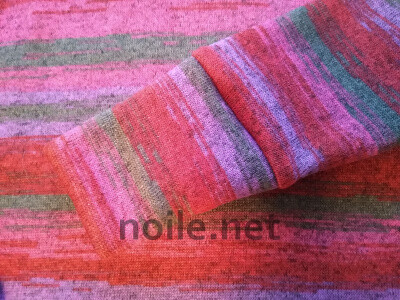 I'm always dubious about raglan sleeves, but these fit like a dream, and I'm in love with the cozy, wacky, extra-long cuffs. You almost can't see them, but there they are, and they make the sleeve super comfortable to wear.  Also: I'm always pushing mine up when working, but that's not necessary with these. Toaster 1: highly recommended!
Now, can we talk about that fabric? Isn't it great? Love the colors, love the variegation! Fortunately for me, this was a muslin, because after one wash, this lovely top is going to be well on the way to having a texture like this: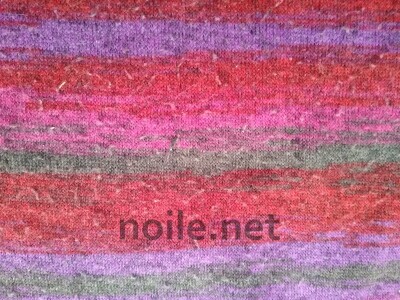 See the sticky, scatchy, plastic slubs?  I've dissed this stuff before, in my Talvikki Mashup post.  That particular sample — a top I love and made a while ago — has been washed exactly THREE times, and it's an unpleasant mess. The fabric is from JoAnn, bought a year or two ago, and it's JoAnn quality: PURE JUNK!
I knew it was a mistake when I bought it, but the colors were irresistible (I picked it up in blue, too), so I did it anyway. When it turned out that I loved the tops I made back then, I resented the lousy quality even more. It's a crime to waste one of the rare good colorways on garbage like this.
This was yet another reminder that it's better to buy mindfully, better to buy quality, and better to buy natural fibers if it's at all possible (or affordable). I'll be able to wear this Toaster out of the house a time or two (ha, ha, as if I were going out . . .) but after that, like the previous tops made from this dreck, it will be consigned to in-home, cat-shreddable, wear. Which is a crying shame, but I have only myself to blame. I know better than to buy anything branded "JoAnn", under any circumstances, and I should have had the restraint to avoid it with these cuts.