Retro-rific Craft Pouch
So, while tooling around the Mennonite fabric stores of Lancaster County, PA back in the days when tooling around places was possible, we ran across this charming faux-retro fabric. I figured I'd use it for pocket linings, if nothing else.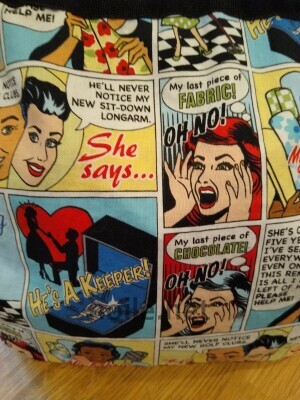 I appreciate the equal weight given to the anguished cries "My last piece of fabric! Oh no!" and "My last piece of chocolate! Oh no!" but my favorite scene is probably the gent on his knees presenting the jewel box — with a sewing machine foot inside. "He's a keeper!"  Heh, heh.
Several people, writing about the Maywood Totepack, mentioned that Fringe Supply Co's Field Bag (now unavailable, see note below) fits nicely into the Maywood. It's a clever design, much in the mode of the smart thinking that went into the Maywood, and since I needed a pouch to fit into my own Maywood, this seemed a good place to start.
But I didn't want, or need, the internal pockets or grommets of the Field Bag, and also wanted a very light, collapsible craft bag, instead of the lovely, substantial canvas of the Field Bag. So, naturally, I drafted my own version. Fringe Supply's is much nicer, and also makes a lovely "basket" on its own, which mine doesn't, but my goals were a bit different. Squishability was what I was aiming for.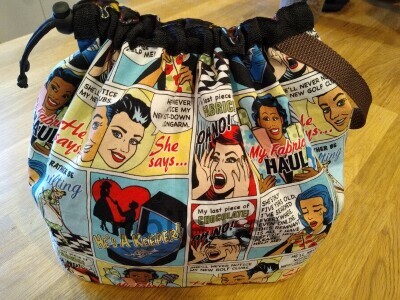 It's nothing fancy. I used super-heavy-duty interfacing for the bottom of the bag, just to make sure it retained some shape. The rest is simply the wacky cotton fabric, except that I used a heavy twill tape to make casings on each side for the paracord that closes the bag. And there are spring toggles at each side to keep the cord closed.
I debated whether or not to include Fringe Supply's wrist strap. (That's the brown webbing loop on the right.)  I'm not a knitter — I'm guessing that strap would be a huge bonus if you were knitting! — but in the end added it. If I can ever travel again, that anchor might be nice on a train or in a car, just to keep the bag from falling off my lap.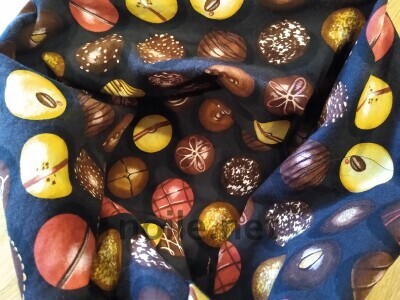 The inside is lined in chocolates. Of course.
Update: Fringe Supply Company is out of business, but Grainline Studio now sells a pattern for the original Field Bag! See it here.