Mixed Double-Strand Socks on the Addi Express
January 23rd, 2022
Warning
: Undefined variable $comments in
/home/public/wp-content/themes/inove/single.php
on line
18
Leave a comment
Go to comments
For my next experiment, I used Lion Brand Wool Ease (a wool/acrylic blend) in forest green heather, with a blue Marage 4 ply fingering yarn (which came as sample yarn with a weaving loom.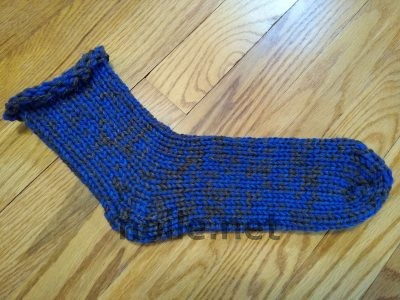 The Wool Ease is approximately the gauge of the Fisherman's Wool I've used before, but the fingering yarn is much lighter than the Caron Simply Soft I'd paired previously.
This yarn selection worked much, with caveats. The combination of Wool Ease with fingering yarn makes a nice, dense sock, but doubling the yarns requires a lot of care and attention. The working yarn tends to twist before it gets to the needles, so keeping the tension even means keeping track of that twist.
And care must be taken to ensure that both yarns are successfully picked up by each needle.
All in all, though, this combination went pretty well. I dipped into my yarn reserves, and made a second sock, this one with the same forest green heather Wool Ease, but with a violet Marage fingering yarn.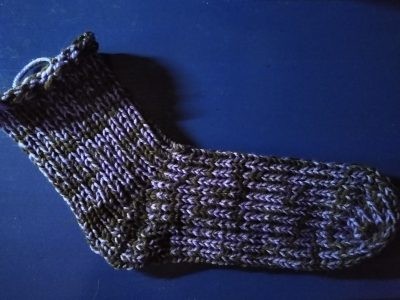 I thought these two socks would look a lot more alike. I think I'd imagined that the thinner yarn colors would be more of an accent — obviously not, though, since equal amounts of each color are used in each sock! So I have an un-matching, but quite wearable "pair", and I know yet a little more about how my Addi works.
Helpful Addi posts: