Kwik Sew K253, Sort Of
So, I'm still staying at home just about 100% of the time, and I never wear shoes anymore. Additionally, for years I've longed for slippers that would feel like socks, but would fit less floppily, without slipping on our wood floors or stairs.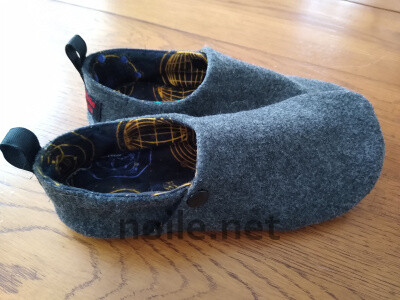 It was time to make my own.
Commercial slipper patterns have never worked for me: I have relatively small feet (6.5 USA, 37 UK). They're slender, but I like a really wide toe box. And I'm no fan of cutesy. I knew whatever pattern I'd  use would require a lot of customization, but I wanted to use a commercial pattern as a base. Enter Kwik Sew K253: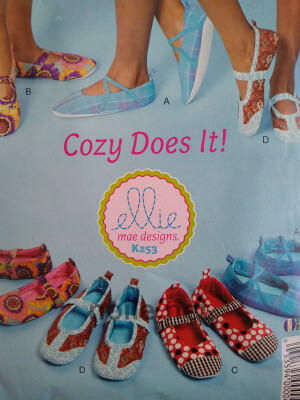 I started by tracing my foot on the K253 sole pattern, since I knew I wanted my slippers to fit the shape of my specific foot. I knew I'd like wearing the slippers better, and also that they'd be less sloppy if they followed my foot contours.
Since I don't like elastic straps, I also re-contoured the top of the slipper by drawing a curve up to where a strap would probably fall.
Changing the configuration of the sole meant that I had to re-fit the upper piece to fit around the sole accurately, I ran a bit afoul here, but more about that later . . .
My slippers are made of craft felt (these are essentially proof-of-concept, and I knew there would be lots of tweaking before hitting slipper perfection). The lining is cut from flannel scraps. Since I wanted something closer to a sock than a slipper, I didn't interface the upper, but I did sandwich two layers of batting between the sole and the sole lining.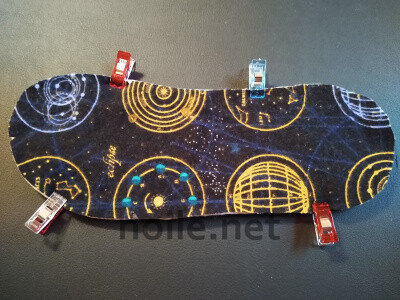 The soles are a (I hope!) durable synthetic I found on Etsy. I'm not a fan of the ubiquitous dotted "non-slip" fabric used in children's footies — I don't think it is particularly effective or long-lasting, and it attracts cat hair like mad — which is messy and also obliterates any non-slip advantage.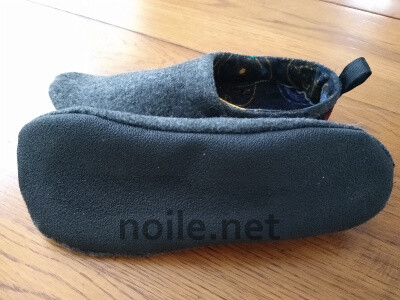 Initially I used quilting clips to keep the layers together, but that really wasn't very effective. In the end, I pinned like mad, and then used a tiny zigzag around all the edges, not only on the sole, but on the upper, too, once the outer felt and inner flannel were sewn together.
The Kwik Sew pattern calls (mostly) for half-inch seams, which I didn't want, and which I think make construction more difficult. On the one hand, the larger seam allows more room for error — helpful, maybe, when dealing with lots of layers — but, on the other hand, it's much more bulky to sew. I knew, too, that .25 inch (.64 cm) seams were small enough that they wouldn't bother my feet inside the slippers.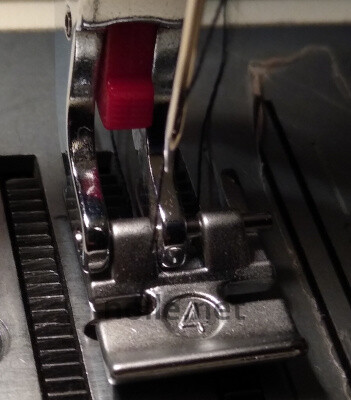 Using a standard zipper foot made sewing it all together much easier: the edge of the sewing foot was right at the seamline, so the foot didn't have to battle with excess slipper material as I sewed. The sole is nothing but curves, and this particular economy — along with the smaller seam allowance — made my sewing more accurate, too.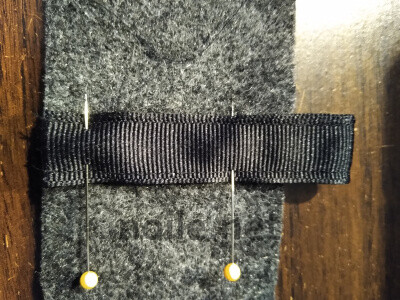 Along with re-drafting the upper, I made several other changes to the style. One was to add a loop to the heel. Mine is made of doubled grosgrain ribbon. It's sewn to the rear slipper seam, within a half inch of the upper edge of the slipper. The loop is large enough that pulling the slipper on with a single finger is easy.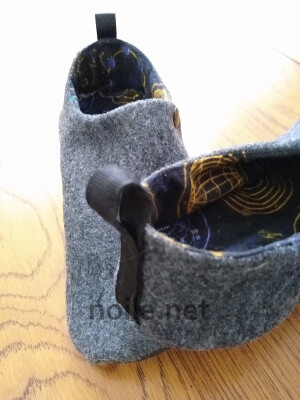 If you do this, remember to fold the loop back when sewing the upper outer and lining fabrics together! Otherwise you'll have a useless loop sandwiched between the two — and some seam ripping to do.
The Kwik Sew pattern calls for elastic at the heel. My slippers fit closely enough that this wasn't necessary, which was another advantage of the more closed style I devised. I love the wrap-around look, and adding a KAM snap to close the wrap gave me exactly the fit I wanted.
The mid-foot opening makes getting the slippers on and off very easy, and the snap snugs up the fit perfectly. They're very comfortable to wear: as light as socks, but with the protection of a slipper on hard floors.
Overall, I'm very pleased with the results, but I got a few things wrong. First, the heel seam is less than .25 inch  (.64 cm) off center, but that annoys me! Secondly, I didn't quite fit the upper correctly to the sole, and I need to re-configure it, and double-check my notches. And I may consider curving the center back seam just a little more at the upper edge.
Next time, I'll look for better quality felt (a lovely wool, I hope — I think there's some in stash somewhere), and see how much closer to perfection I can get.