Paco Peralta Split Skirt
Paco Peralta has a reputation for beautifully drafted designs, and, even though this skirt is, in truth, simple to make, it's no exception. This is Vogue 1619, and, if out-of-print, well-worth snagging for all three pieces. But that skirt! It has it all — including pockets.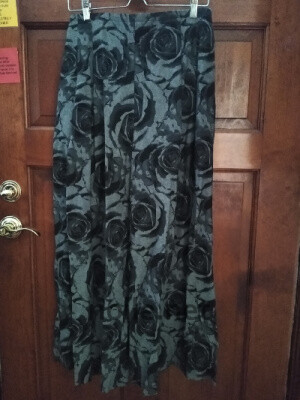 Mine is made of a black rose linen, bought years ago in a hard-to-find hole-in-the-wall fabric store in, of all places, Washington, DC. The store would have fit perfectly the old Garment District in New York, but wasn't at all what I expected to find in Washington. I love everything about this light, flowy linen, and wish I'd bought the whole bolt!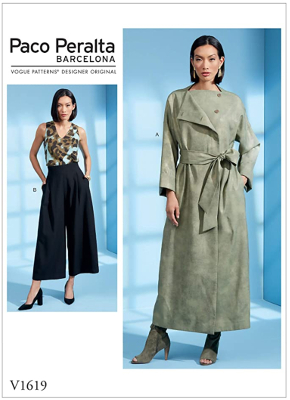 My hanger shots don't do any garment any favors, so here's Vogue's photo. (Yeah, I cropped the sultry model's head, and chopped off her heels, too, because both skeeved me out. The skirt doesn't need the additional slick promo; it's great on its own.) This is, in fact, very much what my skirt looks like, worn.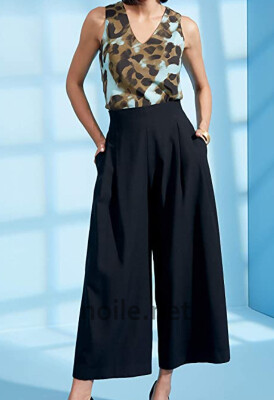 There's no separate waist; all the fitting is done with darts around the top of the skirt. This makes it easy to alter, should you fall out with Vogue's sizing chart. The care Paco took with everything especially shows in the facing; unlike a typical Big Four attempt, Paco's gently follows the curve of the waist, which you've created with the darts.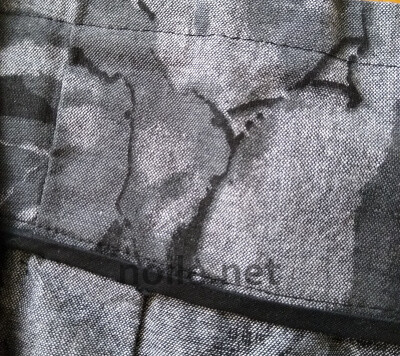 This calls for careful cutting, though, to catch the subtleties. If you're an experienced sewer who trusts your eye when rapidly cutting a garment, watch yourself! My photo really doesn't capture the beautiful flow, but it's there.
The pockets, too, are carefully drafted and wonderfully deep.
For the closure, I used an invisible zip and a hook and eye. Although I made no attempt to match the rose print — and didn't have enough fabric even if I'd wanted to — I preferred the sleek seam-like look to a zipper placket.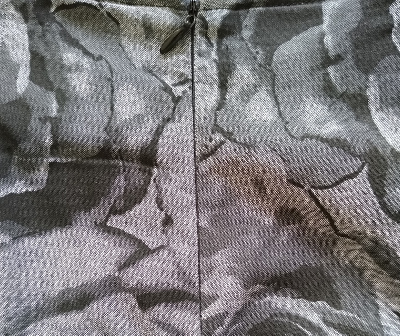 I deeply regret not having bound all the internal seams; it feels as if I gave neither Paco nor the skirt the respect they deserved.  I sewed this up at one of those times when I just wanted a quick "win", and half-thinking of this project as a muslin. That wasn't the first time I cut a corner only to end up with a favorite garment I just didn't do justice to. Nonetheless, it's a wonderful garment, and I praise Paco every time I wear it!