Burda 6475
I'm not sure why I bought this pattern. It might have been because the denim version looked as if it might possibly be some kind of cat-proof tunic for lolling around the house.
But in the end, I found a very different use for this, uh, somewhat sack-like garment.
It turns out that this is probably a perfect garment to wear after abdominal surgery: it skims the body — and specifically the aforementioned abdomen — and it's unfitted enough to be comfortable to move around in without any constriction anywhere. And, in these years of Covid, in the right fabric, it might almost pass for an acceptable Zoom top. (Though it would look more finished with a cowl collar, just saying.)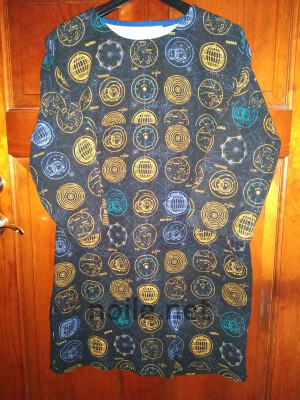 Normally, I'm a stickler about tucking in the ends of bias
tape (see that awful join at the back neck?), but I just
couldn't be bothered for this production run. I'm sorry now!

So I made four of them out of soft, cozy flannel. I'm not wild about any of the flannels I used — this was a hurry-up, production job, and I used what I could find. With a little planning, though, it might be possible to do better.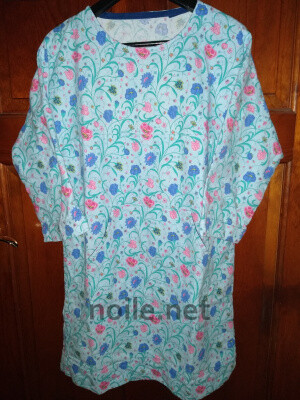 The two florals look a lot like a nightgown gone wrong, but neither Mr. Noile nor the cats care, and all I wanted was something simple to slap together and wear. These won on all counts.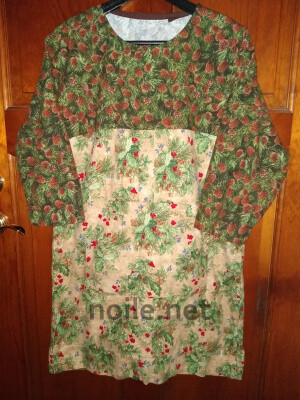 Nonetheless, I managed to make different mistakes on every single garment. This wintery version suffered the worst transgression: In a moment of inexplicable brain fade, I failed to cut the lower skirts on the fold. As a result, both front and back each have two gratuitous seams at the center — and, having run out of the main fabric, a pine cone contrast was necessary to finish up. (It's Covid Times, people. Nobody here is going out to pick up new flannel if some other arrangement can be made.)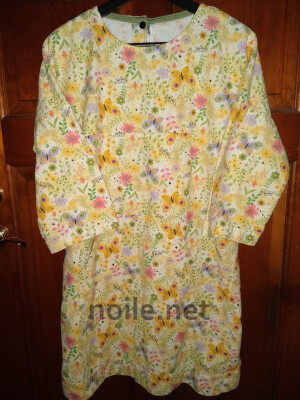 Initially, I was thinking more along the lines of standard hospital gowns, so this first version has two snaps in the back. Though they weren't needed, this pattern actually would be easy to adapt for situations calling for modest access: It would be easy enough to cut the pattern along the top of the sleeves and add snaps along the sleeves and the shoulder seams, so that either front or back, on either side, could be unsnapped and folded down for exams without taking the whole gown off.
This might also be adaptable for a chemo gown, too, though perhaps in something more morale-boosting than flannel. Size it correctly, pair it with leggings and it might almost look chic!
The pattern was huge on me — I made a size smaller than I would have normally, and it still was bigger than I'd wear if gallivanting around town. For floating above abdominal stitches, though, these were perfect, and it was a great pleasure to have exactly no fabric pressing in delicate places during recovery. Thanks, Covid? It turns out that living in flannel tunics was the best thing possible under the circumstances!