Felt Gift Bags
Just in time for Boxing Day — that is, if you're doing nothing else today — are these felt bags, shamelessly copied from ones Starbucks sells every December.  (Or, at least, for the last few.)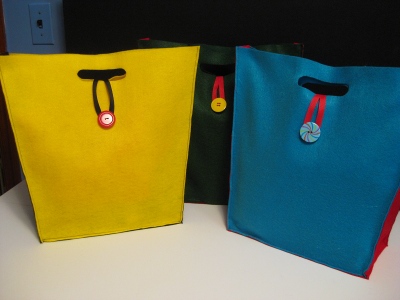 The Starbucks bags are much smaller, made out of much denser felt, and have a slightly elasticized ribbon as the closure.  Apparently, it pays to have a factory at your disposal in China.  (The Starbucks bag, which I bought, sells for only $4.00, so I'm guessing they're not made by union labor in Seattle.)  I had to make do with plastic bottle felt and OTC ribbons.
The overall design has a nice retro feeling, and the contrast is so much fun: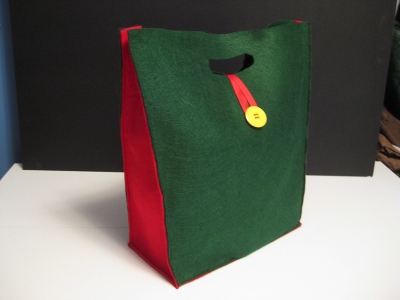 Fortunately, plastic bottle felt comes in a huge number of bright colors (that's about all it has going for it!), and is very, very inexpensive (and 60 inches wide).  Each of these bags cost well under two dollars to make, and are a lot less offensive to the eye than the horrible (and pricey) paper holiday gift bags that are ubiquitous this time of year.
Here's the pattern (yeah, I use the fancy "freezer paper" method):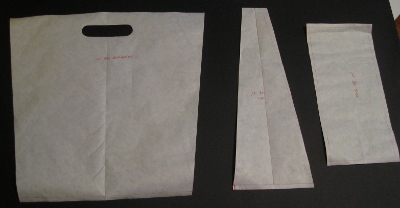 Drafting this is incredibly easy:  Decide what size you want, draw the front, add quarter-inch seams, then draw the base to fit, and finally, the triangle for the sides.
Stitching is likewise fast and easy; I used the side panel color for thread, and made sure to stitch with the contrast color up so that the stitching line was as even as possible where it was going to be most obvious.
I made myself a little scheme so that I'd remember what buttons I'd planned to pair with what bags: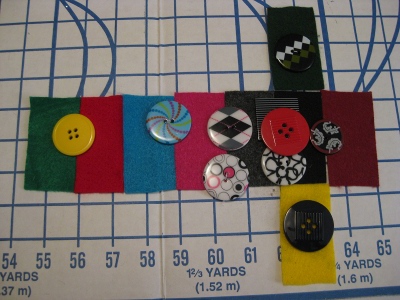 Do note that there are some more somber combinations here, including a rusty burgundy paired with black, and a dark green paired similarly.  Something for everyone!
These bags were a little too floppy, so next time I'll double the fabric for the fronts and sides, and stitch around the tops and the handle openings for additional support.  Made more sturdily, these might get re-used, a thought that makes me happy!  Regardless, they're a quick, simple, and very rewarding little project.