Butterick 5160 – Sewing Machine Cover
Naturally, the first project in my new sewing room had to be a sewing machine cover. I'd been using a simple, channel-quilted muslin cover, but it was pretty blah. When I found some inexpensive, very pretty yardage in blues that coordinate perfectly with my walls, I was ready to go.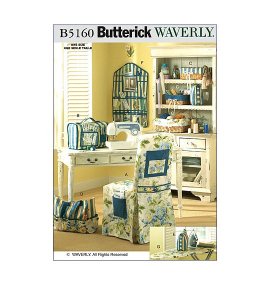 I adapted the cover from Butterick 5160, making some major changes. First, of course, it had to be fitted to my actual machine, which meant shortening it width-wise, and making it a bit taller.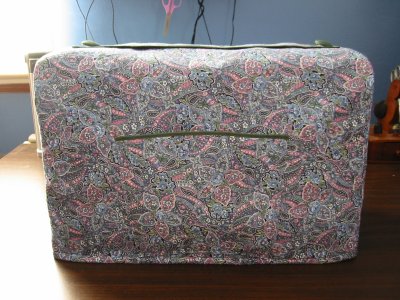 An outside pocket was a requirement, but didn't need (or like the look of) the two pockets provided. One of the other views (probably for the slipcover) had a slightly fan-shaped pocket. I adapted this piece by exaggerating the fan shape, and enlarging the pocket. The idea was to have enough room to keep whatever spools, bobbins, trims, etc. I am using on current projects right at the machine for fast starts.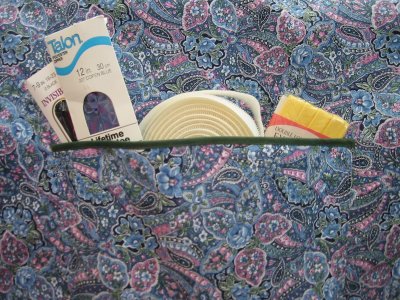 This pattern is one of Butterick's Waverly series, and the fabrics on the envelope photo look like Waverly home decor products. They probably have some heft to them, but my fabric didn't, so I decided to use a layer of thin fleece for structure, and to line my cover with a sage cotton. The pattern calls for bias binding, but I didn't have enough of coordinating binding to handle three somewhat bulky layers, so I assembled it with conventional seams.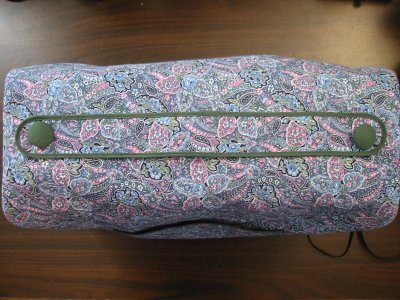 Originally, I didn't intend to make the handle on top, but it became obvious soon that lifting and moving the cover was going to be a little bit of a pain if I didn't. Besides, the bias trim and covered buttons were just too much fun — very reminiscent of 1940s aprons. The pattern envelope shows the handle popped up, which looks very cute with the cartoon-y look of the bias-trimmed cover, but I decided to attach mine flat, in keeping with the slightly more sedate look of my cover. I used the same olive trim on the top edge of the pocket, as well as for the buttons.
In spite of the many changes I made, this pattern offered a great starting point, and saved me the time it would have taken to do a careful self-draft. Along with this cover, there's a chair slipcover (with a bunch of pockets included), basket linings, a sewing tote, a hanging wall organizer, an ironing board cover and, bizarrely, an iron cover, in case you need a flammable place to store your hot iron!