Butterick 4373 – Window Valance
Once my machine had a nifty cover that'd I'd coordinated with my sewing room walls, I turned my attention to the windows. My room is very sunny and bright, and I really didn't want curtains, but the windows looked too bare with no adornment at all. A valance was the answer, but ruffles were out, so I was happy when I spied this Butterick pattern.
On the other hand, view F (on the upper left corner), with its wide sharp scalloped trim, seemed a little too formal, so I mirrored the narrow bias edging I'd used on my sewing machine cover. Fortunately for me, the valance pattern was meant for larger windows, and was made of three pieces – a large center piece, and two smaller side pieces. The center piece fit my smaller windows perfectly, so no alteration was required.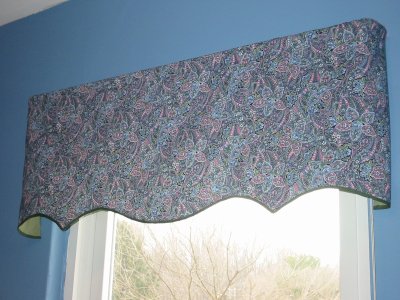 Assembly was quick and simple. I just sewed the three straight sides with right sides together, turned the piece, and bound the decorative edge. The valance is lined in the same sage as the cover. I ran the curtain rod through a casing at the top, but I'm not sure I like the way it looks. I may decide to change the size of the valance in the future, making it less deep. If I do, I'll re-do the top as well, running a line of stitching along the top where the casing folds back, and hand stitched the casing closed so that no stitches show from the front.
Here's an updated picture of my sewing room with the valances in place: