Docker´s Beanie
June 9th, 2023
Warning
: Undefined variable $comments in
/home/public/wp-content/themes/inove/single.php
on line
18
Leave a comment
Go to comments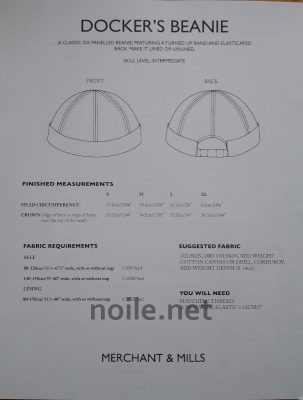 Photo of cover sheet for Docker´s Beanie pattern.
I have a small vintage car that I like to drive in good weather, preferably with the windows open — but my hair hasn´t seen scissors since February 2020, and it flies around a bit, no matter how I contain it with clips or rubber bands. I needed a cap.
The Merchant and Mills Docker´s Beanie looked like exactly the right thing. Not being an actual dock worker, I ignored the fabric recommendations (´´oilskin, dry oilskin, mid-weight cotton canvas or drill, mid-weight denim´´) and used a remnant of white linen for my first version.
You would think that such a simple pattern would be foolproof, and, indeed, the tricky part — the crown — was drafted perfectly. Unless I missed something vital, though, the outer band was a drafting fail. Step 19 says that, once notches are matched and the outerband fitted, ´´there will be 1.5 cm extra at each end´´. Not so, in my case — the 1.5 cm, which allows for a neat, enclosed, edge, was missing.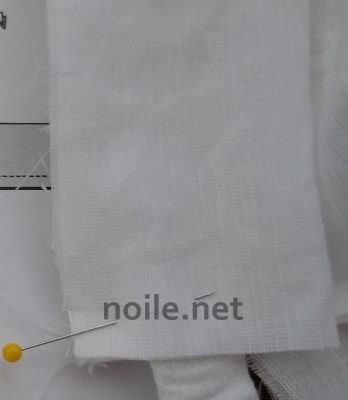 Image showing too-short length of white linen for beanie band.
There´s maybe an eighth of an inch there for a seam?
Not anywhere near 1.5 cm for sure.
I cut a new band, measured correctly, and finished up the beanie, but it was an unexpected glitch in an otherwise quick and easy project.
But, apart from this, the pattern goes together well, with lovely, precise wedges for the main cap, and topstitching which makes it look very professional — not always what I want in home-sewn clothing, but very desirable in a cap.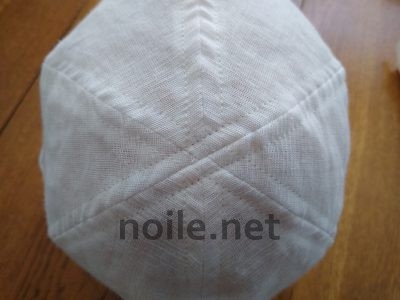 Photo of the crown of a white linen beanie, showing topstitching detail.
Did not match the seams as perfectly as I´d thought (this was a real quickie)
but the topstitching really makes the cap.
The cap has a clever double band, which gives a little extra stability to the edge without any actual stiffening. I liked that a lot! It also allows for some flexibility in fit, with a cutout at the back, and an elastic band running across it.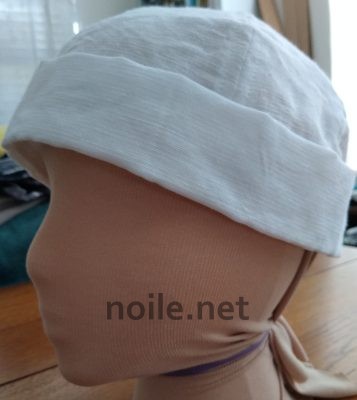 Photo of a styrofoam head covered with tan knit,
modeling a white linen beanie.
Next time, though, I think I´ll use a friction clip at the back, like a lot of commercial caps, to allow for a fixed, and more precise, adjustment.