Bag Edits
I admit to having a pretty serious bag problem. A bag for every purpose; that's my motto. I make them; I buy them; I use different ones all the time, depending on the day's (or, formerly, the trip's) purpose.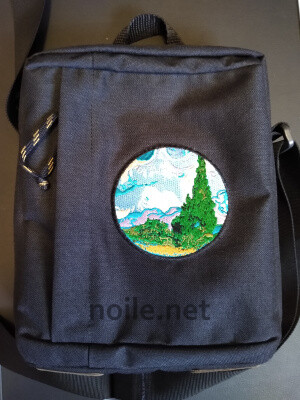 But I almost always make changes to the bags I buy, to better suit them to my individual preferences and needs.
The bag above was originally a plain black bag, but, as is my wont, I couldn't leave well enough alone, so I added the embroidered patch, and made a couple of other changes as well.
This patch is the Van Gogh Cypresses patch, from the Metropolitan Museum store (NYC) — so it's not only an identifier for my bag, but also a travel memento. It may cover up a commercial logo that came on the bag; I can't remember, but in any case, I'm pretty fond of that particular trick. (I don't much like being a walking billboard for brands.)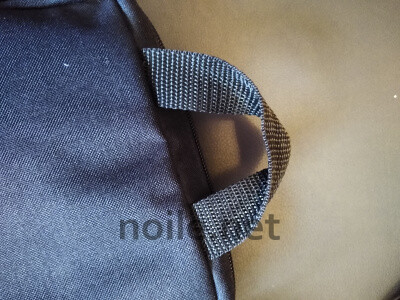 This bag — otherwise perfect in terms of size and comfort-while-wearing — didn't have an easily-grabbed handle, so I added one myself by undoing the stitching (and the seam binding) inside the bag, and inserting one-inch webbing. I heat-seal the ends of nylon webbing to prevent unraveling, and secure the ends with at least triple-stitching.
When I just want to grab a bag quickly, I don't want to mess with a long shoulder strap; this solves the problem.
A lot of bags lack a useful loop or hook for keys; this is an essential for me! Not only do I want to be able to find my keys and retrieve them easily, but I also want them to stay out of the way of whatever else I'm carrying around.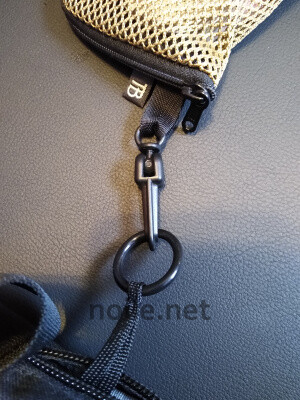 That pouch is a TomBihn.com mini
Zipper Ghost Whale organizer pouch.
Yeah, I don't get the name, either,
but they're great for corralling small things inside larger bags.

Sometimes I just sew fabric loops into my bags; sometimes I've used various other loop-type things (think D-rings or metal loops), but this time I'm trying plumbing O-rings. They're the rings that stop your faucets from leaking. We'll see how they hold up!
I have no affiliation whatsoever with any company mentioned in this post. See my Disclaimer page for details.