Take-Along Compact Backpack
Somewhere, in a bookstore (in Massachusetts?), in the Before Times, I found a clever, light, fold-up nylon backpack. I theoretically bought it for Mr. Noile, because we tended, in those days, to buy used books in vast amounts which were difficult to carry home using flimsy paper or plastic bags, and he usually ends up carting them.
The backpack I bought was really nicely designed, but I soon realized that we — not just Mr.Noile, but I, too — needed something similar, but different. Above, the original purchase, i black, from Flip & Tumble, a woman-owned firm in Berkeley, California, and my altered version, gray, below.
Read on for more details.
Since we carry books, the first thing I needed was heavier and more waterproof fabric — both to handle the weight and to protect the books in case of something more than a sprinkle.
Using extra-sturdy Dyneema material met both requirements.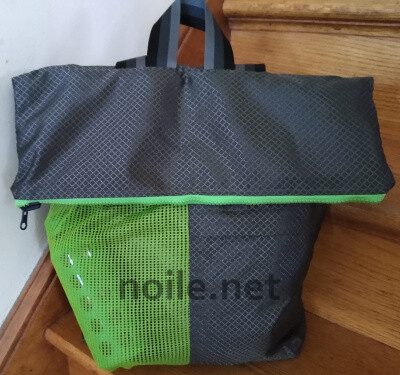 I kept the zipper pocket on the lower quadrant of the Flip & Tumble, but I added a big mesh pocket to the front for a water bottle — also important for day-long treks. You can't really see the zipper pocket in the photo above, but it's under the almost hidden flap to the right of the mesh pocket — and it's bright green, too, just for fun.
Cramming, uh, folding, the backpack into the upper pocket means it's seriously wrinkled when unfolded, but it all shakes out quickly once the pack is in use.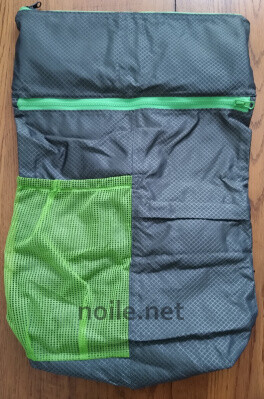 In theory, when the backpack's unfolded, you have an extra pocket at the top. It folds over when the pack's in use (you can see that in the photo just above this one), but it's not particularly useful, as the zip is at the bottom when wearing the backpack. It's really just practical as a way to compact the backpack when not in use.
I used wider, sturdier (and bulkier — that part's not a plus!) straps, and, instead of a closed loop, added a small strap and buckle so that my bag could be clipped to a belt, bike basket, or the like.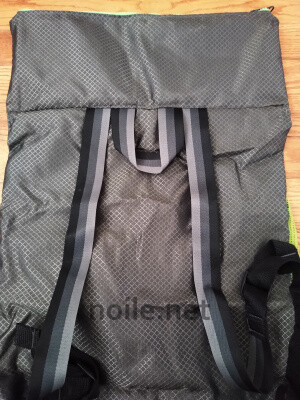 The tiny strap and buckle– that's the strap in bright green in the photo below — allow my bag to be folded, but, due to my various materials choices, mine doesn't turn into the sleek package that is the Flip & Tumble backpack.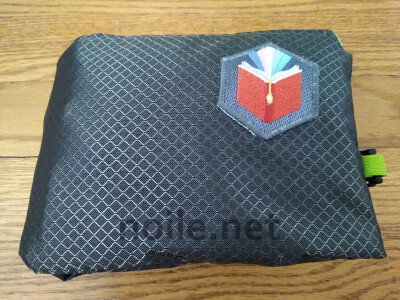 (The book applique is from diy.org, which has fantastic embroidered badges for nifty finishing touches on homemade stuff.)
Figuring out how to put this baby together was challenging — as was configuring my double-headed zipper. As with my Bihn bag knock-off, unless you are desperate for a (possibly quite frustrating!) challenge, I suggest opting for shopping at the source, where Flip & Tumble will have done all the work (in lots of enticing colors, too!). (Flip & Tumble also have gorgeous reusable shopping bags, too!)
Per my disclaimer page, I have no financial relationship with any company mentioned on this page.