The Buttoned Cardi-Shawl
January 22nd, 2021
Warning
: Undefined variable $comments in
/home/public/wp-content/themes/inove/single.php
on line
18
Leave a comment
Go to comments
This is an unpublished post from a few years ago, so pre-Covid.
No museum-going, or any other travel, is happening here these days!
This is the perfect, throw-it-in-the-day-bag, off-to-the-too-cool-museum wrap. When it's made of a lightweight knit, it's just the thing for warding off a slight chill, but easy as pie to wear in a bunch of different ways: As a "cardigan", a Grecian-style stole; as sleeves over a shell; as a snood or hood; as touch of color around the neck; as a conventional long scarf, and even as a wrap skirt. It's also compact enough to toss in a bag or purse so that it's available when needed.
Cardigan look: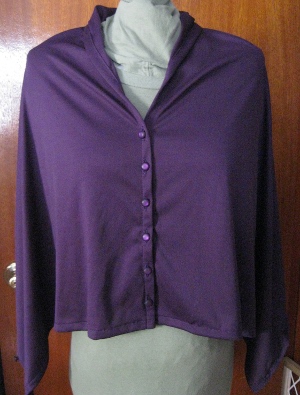 I drafted my own, but if you read to the end of this post, you'll see where I got my inspiration. Mine is a very light poly knit, hemmed on all sides, with finished dimensions of approximately 54 by 24 inches (137 cm by 61 cm). I reinforced the buttonholes and the button placements with twill tape hidden in the hems.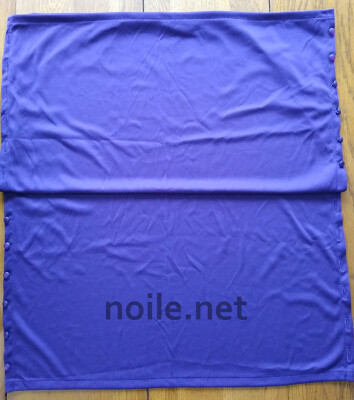 No, I am never going to iron thin poly. Yes, this poor thing is kept
squashed in a travel pouch. I count on the wrinkles
shaking out in the wearing. That works, mostly.
There are six buttons on each side of the scarf, and six buttonholes, but each is catty-corner: The buttons aren't all on the same side of the shawl, but on opposite ends of an imaginary "X" going across the shawl. I've folded the ends over each other in the photo above, and if you look very closely, you can see buttons lower left and upper right, and buttonholes lower right and upper left.
Offsetting the closures is what allows the wearer to wear the shawl so many different ways.
Buttoning one side offers a Grecian look: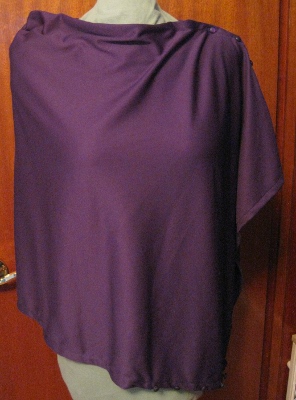 Turning that mode and pulling it overhead makes a hood: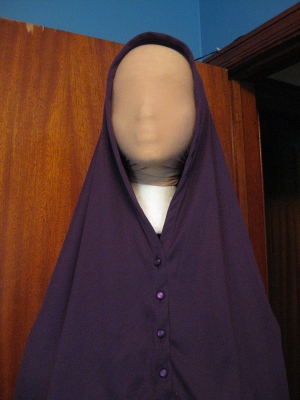 Forgive poor Brunhilde here; she's had a hard life.
Buttoning each end to itself makes sleeves, which works well over a sleeveless top: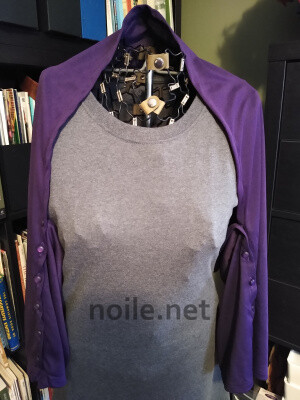 Ditto for Ms. B. I'm not sure her casual
tee is really working for her.
A single button, with the wrap draped, results in an asymmetrical skirt: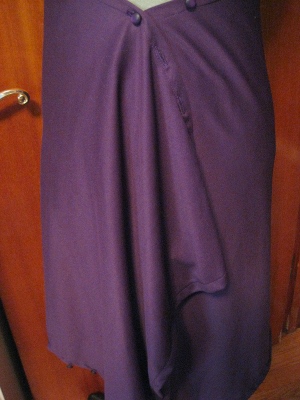 You've also got a standard cowl: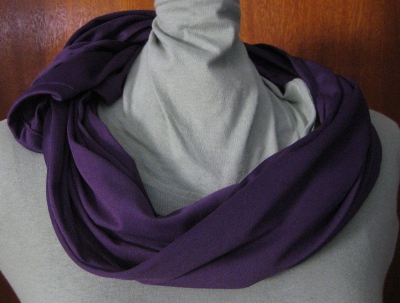 Or an ordinary scarf, though with button ornamentation: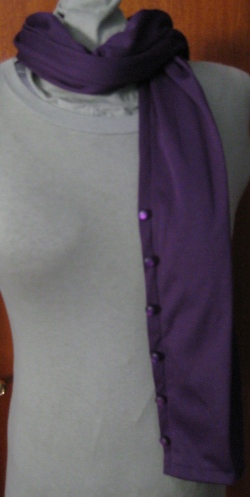 There may be other ways to wear this — it begs for experimentation! (Turban, anyone??)
The first shawl I saw that used some kind of a scheme like this came from this Japanese pattern book, which I found a few years ago at Book Off in New York: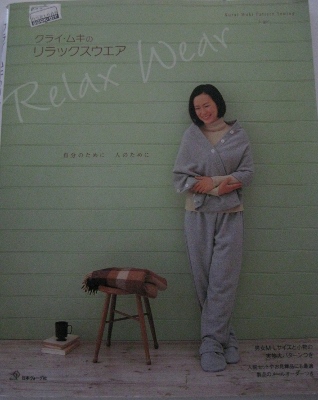 ISBN 4-529-04311-8
This garment is shown here on the cover as a straightforward, buttoned shawl here, but inside the book it's shown buttoned down the front, wrapped around the waist, and with the sleeves buttoned up.
The shawl is made of sweatshirt fleece in the book's photos, which means that the garment has a completely different feel, since the thick fabric, though warmer than a light knit, doesn't drape at all. Wrapped around the waist, it looks much more like a sweatshirt than it does a skirt, for instance, and the "cardigan" effect of my shawl doesn't exist in sweatshirting; it's just a cuddly blanket-like jacket. But wonderful!
Naturally, I went immediately out and bought a couple yards of brown fleece and a bunch of oversized, complimentary buttons.  That's still all in my stash, but one day .  .  .
Then, at Muji sometime this year, I saw something very similar to what I've made, but done up in a very, very thin and fragile yarn, with cleverly done ribbing on the ends of the shawl — in awful colors.  (An insipid, extremely pale shell pink, if I remember correctly, and an equally dull palest vanilla.)
The ribbing was a stroke of genius, because it made the shawl look quite a bit like a vintage cardigan when buttoned up. I can't find it now on Mujii's website (and couldn't when I returned from New York after that trip, either).
It was Muji's design, though, that made me look for buttons that could have been used on a vintage cardigan (if, that is, they weren't bright purple!). Muji's buttons weren't similar, but I think my vintage-look buttons accomplish the same thing that Muji's ribbing did; they make the cardigan version look a bit more traditional "cardi".