Pocket for a Power Chair
A dear relative uses a power chair (which she amusingly calls an "electric chair", an accurate, if perhaps misleading, description) and, naturally, likes to have a "pocket" to hold small things when she ventures forth in her chariot.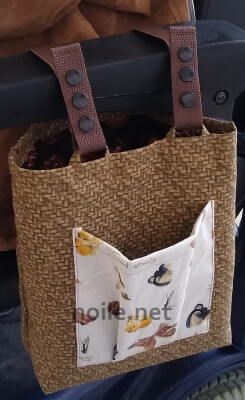 A few years ago I made one for her, but over time it's gotten a bit battered, so a new one was in order.
This iteration was trickier. Thanks to Covid, I couldn't check measurements or fit this new bag directly. Unfortunately, I didn't have notes from the former bag, so I couldn't be at all sure what the size had been.
I winged it using Taylor Tailor's Wine Tote pattern. I altered it slightly to make the bag narrower at the sides, since anything hanging off the arm of a power chair is likely to bang into things. The trick was to make it wide enough to hold a book or two, glasses and various miscellany, but not too wide.
Of course, I also had to move the strap placement to fit on the arm, so they are set to go from front to back instead of across the front and back, as they would be for a tote that would get carried by hand.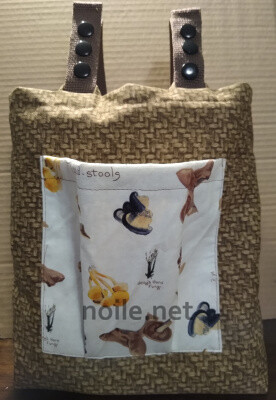 My relative is a mycologist, so fungi are important.
Sadly, I couldn't center this exactly as I
would have liked to: Covid stash issues.
This was a remnant from a previous project.
Instead of Taylor's small side pocket, I made a larger, open one. This is theoretically for a hearing aid case, since nothing seems to go wandering more frequently than hearing aids and their case. It's not really likely that this pocket will solve the problem, but I had to try, non?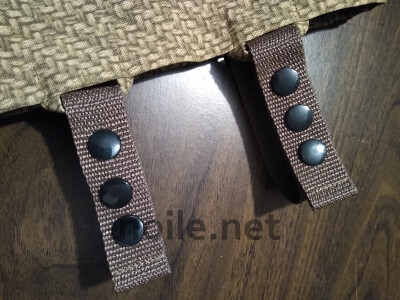 Because I couldn't fit the straps, I made them with adjustable snaps: three size 22 KAM snaps on each strap. Size 22 are probably strong enough to hold up to banging around a bit, and, if it had been necessary, only one or two can be been used to hold the bag. Self-fabric loops let the straps double back for further security.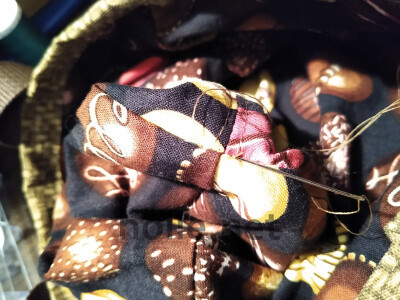 Construction is really simple, even with the lining, but it's really important to make sure to anchor the lining to the bottom of the outside fabric. That's easy to do where the corners are stitched, though it's a bit of a pain to do — but it's essential, since otherwise the lining will tend to pull out of the bag every time anything's removed from it.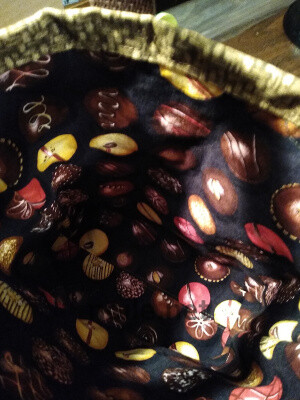 And, why yes, the lining is printed with chocolate bonbons, because why not? (And, needless to say, there were real chocolates inside when it was delivered, because of course there were!)