Making a Reversible Tank
Trena asked me to share my method for making reversible sleeveless tops like the ones in my wardrobe plan.  I'm glad she did, because when I sat down to make the one right after her request, I completely blanked on how to make this thing work!  So, as much for my sake as anyone else's, here's how it goes.  (These instructions are for knit fabrics; without a closure, you'll need the stretch to get in and out of your garment.)  Here's the first one I made: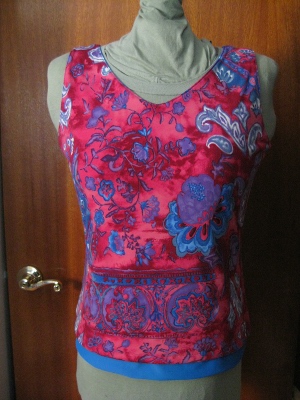 To prepare:  Select a tank top (or dress) pattern and do any alterations needed.  If you use one like Christine Jonson's BaseWear One Top 622, one reversible top will give you four looks, since the back and front can be reversed, as well as the inner and outer fabrics.  (Check to see if you need to make any alterations to the back to allow room for your bust first, though.)
But on with the instructions:
First, cut out two complete tanks, front and back.  No facings or bindings; just the fronts and backs.  You're essentially lining your tank, so  you won't need those extras.  (You could make a tank top or a tank dress using this method, but for simplicity's sake, I'm just going to use the word "tank" to cover both.). You will need seam allowances, though, so if your pattern calls for binding, make sure you've added the seam allowance you prefer before cutting.
Sew only the side seams together. Here they are, both layers, with only the side seams stitched: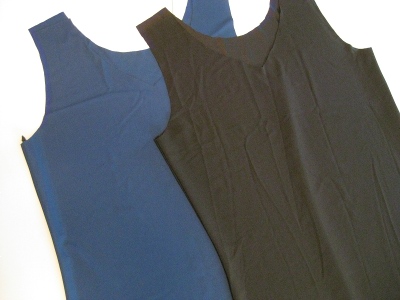 Arrange the tanks so that the right sides are together, one tank inside the other.  Stitch around both armholes and both necklines (front and back). DO NOT stitch the shoulder seams!  Here are the tanks with just the armholes and necklines stitched. They're arranged so that you can see the black contrast, but the two tanks are now joined: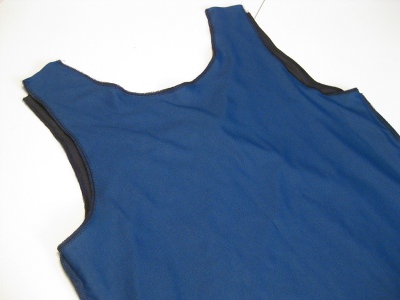 Beginning with the garment lying flat as in the picture above, take one shoulder strap, and pull it out of the garment so that you are looking at the right sides of that one strap.  You should have one strap that is wrong side out, some fabric bunched in the middle, and one strap right side out: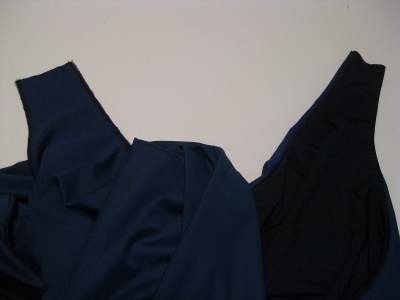 (Sorry, I'm all about the sewing, not so much about the photography.  What we've got here is the "wrong side out strap" on the left, the bunched tank fabric in the middle, and the "right side out strap" on the right.)
Update: Same view of another tank, same position: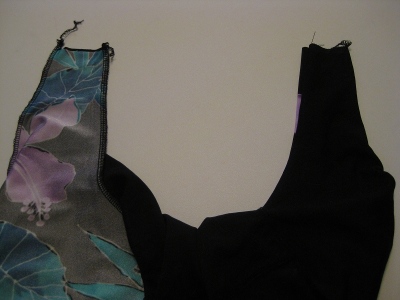 Hold onto the "right side" strap and push it through INTO the "wrong side" strap.  Make sure the CORRECT strap pieces are meeting!  Don't do any crossovers here .  .  .  keep those straps on the correct side of your garment.
Notice what just happened?  You've got "right-sides-to-right-sides" for one shoulder strap.  Just what you want!
Update: Here's a view of a different top, from a different angle, looking down into the same strap as the one shown above, after the edges have been evened up: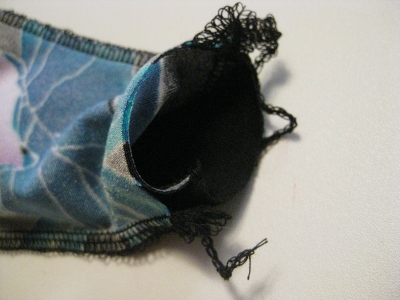 Trim before you stitch; you'll be glad you did.
Your straps will be open at the top of the armhole shoulders, and there will be a seam going from the bottom of the armhole to the hem of your garment.  If that seam's not in the right place .  .  .  weeeelllll, then you're probably joining a neckline instead of an armhole.  Don't do that!
Make the edges of the straps even, matching the seams carefully, and making sure that your straps haven't twisted, and that each fabric is right side to itself.  Both sides of my black fabric are right sides together; ditto for the blue sides.  Black to black, blue to blue. (Update:  Print to print, solid to solid.) You'll see that you've made a small circle with the straps, and you can look down into the tube that will soon be the inside of your finished tank straps. (Update:  Exactly as in the updated image above.)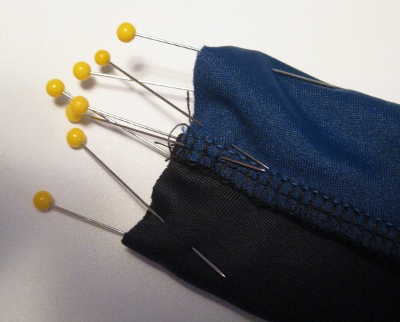 Baste, pin, or take your chances — your straps are now ready to stitch!
Stitch all around the tiny circle you've made with your "right sides together" straps.  Don't be misled by the photo below:  DO NOT stitch across all four strap layers.  It looks as if that's what I did here — NOT SO!  You should be stitching only TWO layers all around the top of your straps, forming a tube, NOT closing the tube by sewing it shut.
This is what the stitching looks like, finished and folded so that the two contrasting sides show: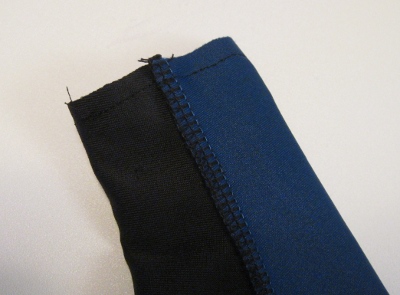 Repeat for the second strap.
Then reach inside your tank, and turn it right side out.  Voilà!  All you have left to do is edge-stitch around the armholes and neckline and then hem all around.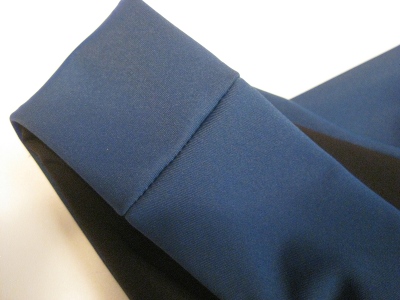 A few tips:
I let my hems float freely; sometimes I cut one side longer, so that I have a stripe effect at the bottom of one side.  This eliminates the "how on earth do I get the hems to stay perfectly in line?" problem.
Putting lightweight, nylon snaps between layers at the side seams (or even along the hems, for a tank dress) can help keep floating hems aligned, yet let you separate the layers for faster drying.  (Great for travel!)
If you're using a serger, change your outside needle's thread to match one side of your tank, and then serge with that side facing up.  (I'm assuming the rest of your cone threads will be consonant with your second color.)  That way, if your seams flex, it's more likely that any thread color showing will match the side being worn.
When edge-stitching, use one contrast in the bobbin, and one in the machine needle.  Check your tension carefully to be sure that your stitches are even, and that the opposing color isn't showing through on the contrast side.
Better yet, choose either two prints for your tank, making sure that they share at least one color that you can use for stitching all over (hides a multitude of sins), or use one solid and one consonant print.  Either choice will be more forgiving when it comes to edge-stitching:  Use the solid color for edge-stitching, and it should disappear into the consonant print on the other side.
If you don't want a reversible tank, you can use this method to line a tank with a lightweight mesh.  It's faster than binding, and gives a really professional look to your finished garment.
If you're into color-blocking, use a different color for each of the four sides of your tank.  Your backs and fronts won't match, but you'll have that many  more looks, and you might like the effect!
This whole process may seem counter-intuitive, and may be confusing the first time you try it, especially if you're impatient!  But it's actually very easy to do, and, once you understand it, very easy to repeat, especially if you bookmark this page!
Update 7/19/2011: Two additional photos to (hopefully) clarify things.