ABdPM 20013: Miscellaneous Report
Things are progressing here — the jacket's got pockets: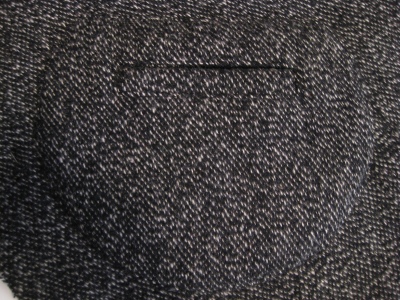 I don't like raw edges on the insides of my patch pockets, so I lined these with a thin, slippery polyester.  And I interfaced them as well, because that will help to keep them from "pooching" over the years.  Then I turned them, and applied the finished pockets to the jacket fronts.
These aren't exactly the pockets specified by ABdPM.  Their pockets have two bound edges, stitched from the contrast that I'm supposed to be using for one side of my hood (you can see this in the photo below).

I know, too small, but maybe you get the idea.  The contrast trim is just a thin edge on the pocket opening.
Instead, I used the exterior wool fabric, and made standard welts for the opening. Here's the welt on the back side, before I stitched it in place: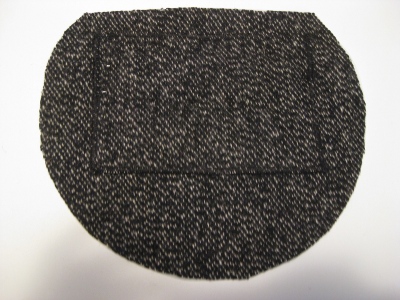 This fabric ravels very easily; with another wool, I probably wouldn't have bothered to finish the edges.  The welt fabric is a true rectangle, but I took this picture at an angle in a (vain) attempt to avoid the shadow you see at the bottom of the picture.  Got to work on those photo skills one day.  Not this week, however.
My pockets are larger than the ABdPM versions — about a half an inch larger all around.  ABdPM's pockets are pretty small; big enough for hands, probably, but mine had to be large enough so that I could get my pocket camera in and out with no fuss.
I used to be quite good at making welts and bound buttonholes, but those days are gone, and, once again, I'm grateful for this lovely tweedy-twill which hides imperfections very nicely.  The welts nearly match.  Close enough, as they say, for government work — but far from perfection.
On other fronts (literally) I've been debating the closures.  When I first saw the ABdPM photograph, I was thrilled because I mistakenly assumed that the jacket was closed with springs: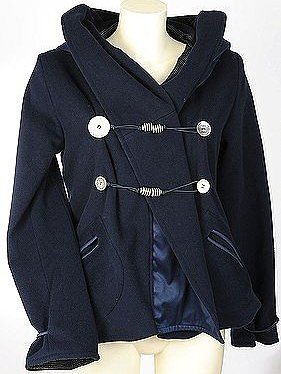 Yeah, only a hardware junkie could have leapt to that conclusion. Those are actually beads strung on elastic, which loops over four assorted buttons.
I liked the hardware concept a lot though, so I picked up a couple of springs.  They were too chrome-y, and maybe too heavy, as well.  Then I dropped in at the beading store and picked up some heavy black wire, which I wrapped around one of the springs.  Better, but not right.  Then I made a spring-like structure out of the black wire and added flat, rectangular, glass beads to the ends.  Not quite right, either.  The black wire coils completely disappeared into the tweed which just looked strange, rather than interesting.
Here are the three incarnations (in reverse order from the way I've described them, sorry):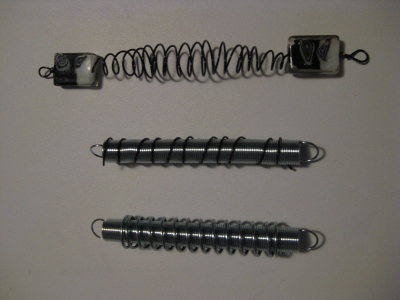 All have been rejected (and you might say "good riddance"!), but I think I have a solution, which I'll save for later.  I'm afraid that I really do want a kooky closure, so actual buttons-and-tabs or buttons-and-buttonholes are out of the question.
Related:
ABdPM 20013:  Fit and Interlining