ABdPM 20013: Fit and Interlining
From Au Bonheur des Petites Mains, this is the "Veste effet boule, à capuche", (or "Jacket ball effect, hooded" per Google Translate).  I'm a little unclear on exactly what the "ball effect" is, but that's OK.  It's a jacket with a goofy hood, a fun front closure, and circular pockets.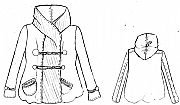 Because the instructions are in French (or more accurately, because my French is decades old and beyond rusty), figuring out exactly how it's meant to be put together isn't the simplest thing.  Using Google Translate, and Shams' helpful glossary, I cobbled up instructions that were more or less comprehensible, if slightly scanty.  That was my first step.
The next step was figuring out my size.  ABdPM patterns are French, and the sizing is a little different from what I usually encounter.  Allow me to correct that:  The sizing is a LOT different.  Not only do French women not get fat, but apparently they're not very big, either.  And have no busts.  And super-slender arms.
So getting used to ABdPM sizing takes a little effort.  At 5'2″ and 122 pounds, I needed size 44, except in the shoulders, where I cut the pattern down to nearly the smallest size:  34.   (Size 44, by the way is the top of their smaller size range.)
I probably should have tried an FBA in a smaller size, but I'd still have needed the 44 sleeves, and I wanted the fullness of the larger coat body, not to mention that I needed plenty of space for my 37 C+ bust, and without an FBA the larger size was the only way to get it.
The size 44 sleeves fit in the biceps,where they're snuggest, but come thisclose to being too tight, so that's definitely something to watch.   Overall,  I'm pretty small for a North American, and my arms aren't notably heavy, so these sleeves must be really narrow.
ABdPM patterns are printed on heavy paper (which is wonderful!), so I traced off my chosen size, and cut out the interlining (or underlining, or whatever).  No seam allowances are included; they're completely up to you.  I used 5/8th of an inch, which is what I'm most used to.  I also made the jacket about three-fourths of an inch longer, before, of course, adding the depth of the hem.
My "exterior" fabric (that's what ABdPM calls it, and I like that adjective a lot better than the silly term "fashion fabric") is all wool, but not quite coating weight, so I knew I'd need some fairly serious insulation for winter wear.  The interlining is one layer of a thin, drapey poly batt, and one layer of cotton flannel, cobbled together with loose, free-hand quilting.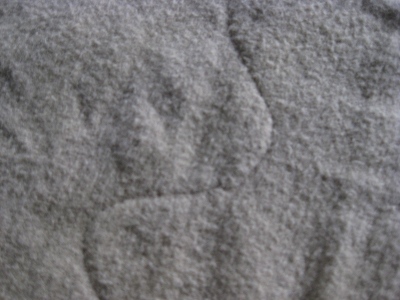 Yikes!  Clumsy stitching and out-of-focus.  Just think of the outer layer as an especially fuzzy flannel .  .  .
I'd never done free-hand quilting on a machine before, and, let me tell you, I did one messy job of it.  No matter; the only point was to keep the layers together without stiffening the lining.  In that, I succeeded.  I do, however, now understand why a quilting shop I stop in at now and then has a huge, computerized quilting machine which is always humming.
Since I was fairly confident of the fit, I used the interlining as a "muslin", and tweaked the pattern only slightly, in the shoulders, as noted above.  This was pretty risky, and may come back to bite me, though, since I'm still not exactly sure how the jacket goes together.  I think I know, but let's just say that the instructions are a little obscure in places.  A more prudent sewer would have done a full muslin, but since the jacket's loose-fitting, and the whole project is an experiment, I was willing to take some chances.
The back of the jacket has a yoke, with a lovely curved seam, but I cut the yoke and lower back all-in-one for the interlining once I realized that the seam was strictly decorative.  I didn't want the bulk in the insulation.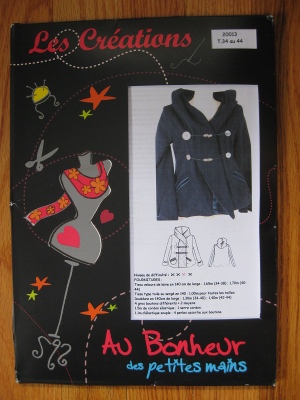 By the way, ABdPM patterns are hugely over-sized; about 9 x 12 inches, or roughly 22 cm by 30 cm.  They come in a stiff, nearly cardboard-like envelope, with a photograph of the finished garment, a page of instructions, and the pattern itself.  This presentation explains the hefty shipping charge to North America, but the packaging is an aesthetic joy, and a further spur to action.  I can hardly keep from drooling every time I see the envelopes on my shelf.  Who wouldn't want to sew something packaged so enticingly?
Related:
ABdPM 20013:  Miscellaneous Report