Thread Fragility, and How to Create It
Been cursing the dreadful quality of thread these days? Me, too — at least until I discovered Emma's new avocation: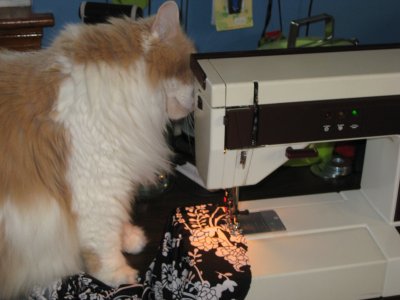 She's chewing happily on the thread running along the back of my machine. She doesn't eat it, or even chew through it. She just gnaws on it. This went a long way toward explaining the strange weakness I was periodically encountering as I stitched merrily along. Needless to say, I now deploy the sewing machine cover with far greater frequency than I used to.
(Yes, Emma is a GIANT cat — she's part Maine Coon, and that's the part that shows.  See those huge paws?  Very clever, those paws.  Very useful for water play in the bathroom, too.  Very useful for string — or thread — play anywhere.)