How to Carry a Baguette (or Two) in Your Skirt
October 26th, 2009
Warning
: Undefined variable $comments in
/home/public/wp-content/themes/inove/single.php
on line
18
Leave a comment
Go to comments
Mr. Noile was kind enough to take these pictures of Vogue 8499.   This skirt has wonderful, deep side pockets, which can be very useful if you're bringing bread home from the market:
Well, OK, I don't really shop like this.  But it's not a bad way of illustrating just how deep those pocket are, is it?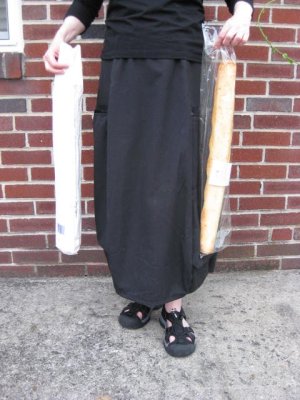 I added hidden, shallow pockets to this skirt when I made it, so I got the best of both worlds (details in the second link below).
Related:  Vogue 8499 Marcy Tilton Skirt ; Vogue 8499 The Skirt, in Black