Is There a Sadder Sight?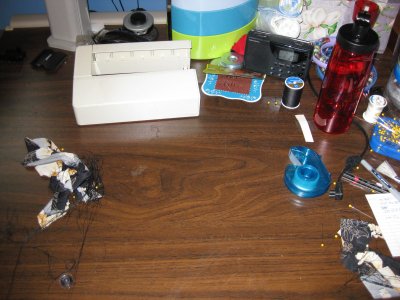 . . . than the space where my much-loved Pfaff used to be? Thursday night, as I attempted to sew the last eight inches of the hem on a Kwik Sew top, the tension went all wonky. Irretrievably, unfixably wonky.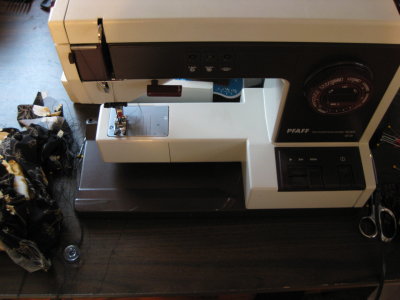 I've owned my Synchrotronic 1229 for 25 years, having acquired it new shortly after it was manufactured in April of 1983. (Shown here as the disaster multiplied. How about that tangle of thread on the left, eh?) I bought it because it did four things beautifully: the needle stops the minute instant power is cut; the walking foot feeds tricky fabric beautifully; it has a hands-free reverse stitching feature; and the machine edge-stitches with a precision that is amazing. For all these years, it's done these things, and more, perfectly. Predictably. Wonderfully. I love this baby! So Thursday night was a bit devastating. A quick Internet search revealed a Pfaff dealer only 45 minutes away, which helped. After I called Friday morning, I felt even better — the technician was trained by Pfaff 22 years ago, and periodically since. That's my era! My baby won't leave the shop, and I should have it back in two weeks.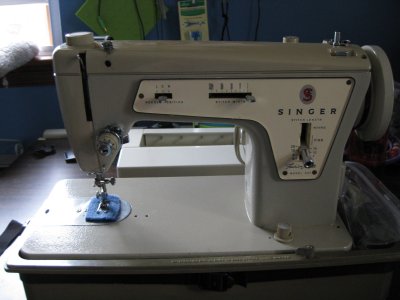 Not that it's going to be a good two weeks. On the plus side, I do have a couple of options, at least for sewing wovens. The Singer Fashion Mate 237 that I picked up in California a few years ago will pinch hit, and, if I want, my 60-year-old Singer Featherweight is available, too. But nothing is quite as versatile as my trusty Pfaff; I'll be feeling a bit of pain, even though I'll still be able to sew. My spouse was sympathetic, but not really dismayed. He pointed out that I've been wanting to re-make my duct tape dummy, and that this could be the right moment. That's a pretty good idea, especially since I keep putting it off in favor of actual sewing. We'll see. Two weeks? I can probably survive two weeks, right?