Vogue 7640 Jacket with Draped Lapels
This is another strangely-shaped pattern (like Miyake's Vogue 1476), and I actually marked "sleeve" "collar" and "shoulder" in big letters on the front jacket pattern piece, one side of which resembles a mad architect's idea of the outline of a suspension bridge. You might save some time and aggravation if you do the same.
I made the jacket in an acrylic plaid in black, brown, white and teal found at JoAnn's (the only immediately accessible fabric store where I am at the moment). I actually love the plaid, and wish it were in a soft wool instead. The jacket looks fine, but the drape would be softer in a better fabric, and also feel wonderful to wear. The acrylic just doesn't quite do it.
In the envelope illustration, it looks as if the armholes are dropped off the shoulder. In actuality, they fit as if in a tailored jacket — except that the jacket front flows from the shoulder line. An interesting combination, but not exactly what's illustrated. I'm reserving judgment about the tailored sleeve caps. I'm not sure they're exactly what I wanted. Otherwise, the jacket does flow and fit as shown on the packet.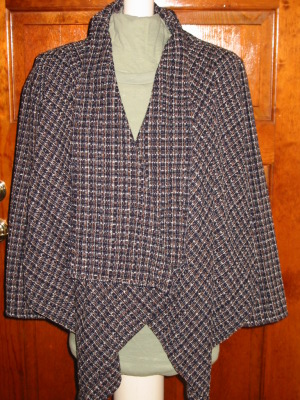 The jacket has another curious quality — the back is straight across, which isn't exactly what you might expect. It feels short when worn, but I think it looks fine. I shortened the sleeves, which I always have to do, and did a Hong Kong finish on the seams, which worked well.
I think I may sew it again. It made up very quickly, and could be really wonderful in something very soft — kind of like a sweater with a jacket's style. I loved doing the mitered corners! Next time, though, if I use such a loosely-woven fabric, I'll make the turned hems a little larger. Managing a 1/4th inch edge in a loose, bulky weave is a bit tricky.
This is a fun, little versatile jacket that I'll wear with jeans, trousers, a dress I already own and probably a skirt or two. It might be great for traveling, too, as it can span anything from casual to almost formal.
I wish I'd made it in a nicer fabric; I get compliments every time I wear it. I wish the fabric felt as good as the jacket looks.