Simplicity 3583 – Zabuton, Zafu and More
If you're interested in making meditation accessories, this Andrea Schewe pattern has a slew to chose from. The items I made are a little different, but this pattern has instructions for what looks like a fairly traditional zafu, as well as a wedge-shaped cushion like ones I saw at my meditation class, and a zabuton.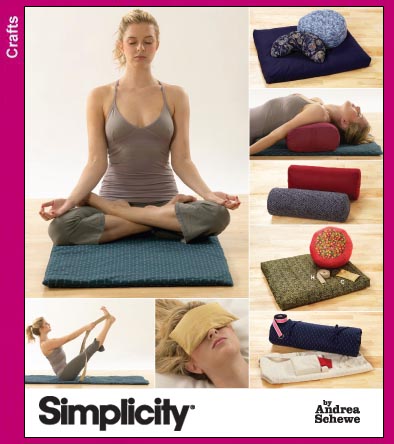 Suggested fillings for the zafu are poly fiberfill and buckwheat hulls; traditional is kapok, which would probably be horrible to work with, but nicest of all to sit on. If you want to experiment with various cushions or bolsters, this pattern could save you a lot of time, and let you get to mindfullness with minimal fuss.
Simplicity are on sale for 99 cents this weekend (March 28-30, 2008) at Joann's (at least out eastward, where I am); I picked this one up just in case.