Sewing Workshop Haiku Jacket
This is an Asian-influenced jacket with reversed lapels. Sewing Workshop's current pattern is the Haiku 2, which is a shorter version; I used the old pattern, which I much prefer. According to Sewing Workshop, the length is the only difference between the two patterns.
I made a small, which is over-sized for my size 8 frame. I love it anyway, and wear it all the time! The fabric was a mid-weight mini-tweed in shades of black with white. The jacket's actually pretty heavy, though, as there's a fair amount of yardage.
The jacket hem is turned toward the front of the jacket, exposing the wrong side. This isn't obvious on the pattern cover. I faced the hem with tape to avoid this effect, and stitched the lapels in place across the bottom with the hem. Unfortunately, the hem instructions were not at all clear, and the pattern pieces are counter-intuitive, so I had to progress very carefully.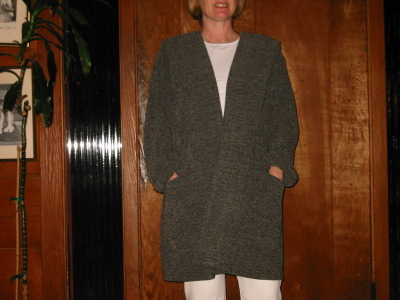 I shortened the sleeves quite a bit. I still roll them, and love the feel and look, but in retrospect, I probably should have shortened them more, so that I could wear them unrolled. They may add a bit too much to the bulky feeling.
I also lined the pockets, as I really use them, and wanted them to retain their shape. I made French seams, as flat-felling my loosely-woven fabric would have driven me mad.
This is a great jacket, and I'll definitely make it again. Although it's a big jacket on me (and probably would look stupendous on a tall woman), it's a joy to wear. I might try to alter it down a size — especially if I plan to wear it in a professional setting. It's just a little too big on me to work as well as it could in a non-casual setting. It's lots of fun to make, easy to wear, and full of great possibilities for a range of fabrics.