Green Pepper F847 Norwester Hat
March 21st, 2008
Warning
: Undefined variable $comments in
/home/public/wp-content/themes/inove/single.php
on line
18
Leave a comment
Go to comments
When I joined a local hiking club, I learned, much to my surprise, that hikers in my state share the woods with hunters in (at least during bow hunting season). Not surprisingly, blaze orange gear jumped to the top of my acquisitions list. Visible headgear was an absolute necessity, but I couldn't find anything in orange in stores except baseball caps, and I loathe baseball caps. Sewing something was the obvious answer. I settled on Green Pepper's Norwester Hat: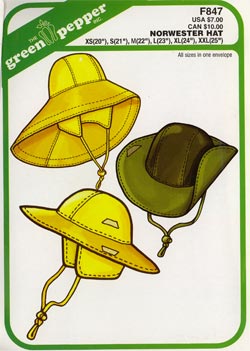 This looked like a great hat, and it turned out to be even better in person. There are two versions: one with a brim that's symmetrical all the way around, and a more traditional version, lengthened in the back. I made the long-brim version.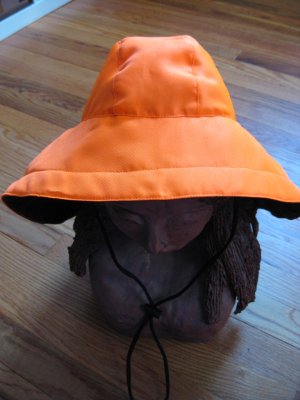 For hiking, I omitted the earflaps and the velcro (I knew I'd only wear it with the brim down.) I didn't make any other alterations; medium size turned out to be perfect for me.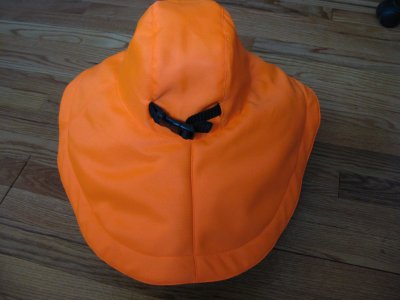 The pattern instructions were clear, and the pattern itself well-drafted and easy to use. The only real challenge this project offered was material — literally. It turns out that different states have specific requirements for hunter's blaze — and orange ripstop isn't it. Of course, I wasn't trying to meet any legal requirement, but common sense seemed to dictate that I should go for the greatest visibility possible. (That is, if I planned to so anything as un-sensible as walking in the woods in the first place.)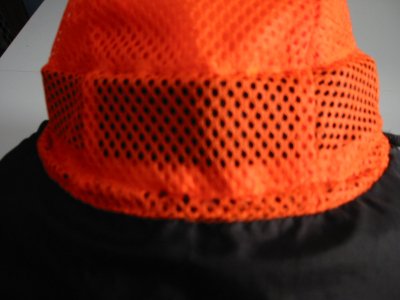 I solved this problem by buying one XXL polyester hunting vest, and a second vest made of orange blaze mesh. (By the way, this made for a very inexpensive hat. I think it was about three dollars for both vests.) There wasn't enough contiguous fabric on the tabard style vest to permit cutting the brim sections all-in-one, so I had to piece it, but that worked out fine. (The seam you see centered in the picture below is the one I added.) I used the mesh to line the crown, making the hat cooler and lighter to wear.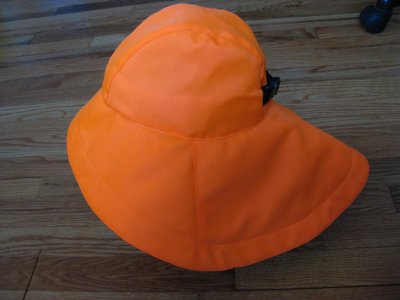 The prospect of looking at the world from under a bright orange brim didn't thrill me, so I made the underside of black ripstop — very kind to the eyes. I wanted the brim to stand out on its own, but to be completely foldable and crushable, so I used a very thin, lightweight fleece for interfacing. It was a great choice.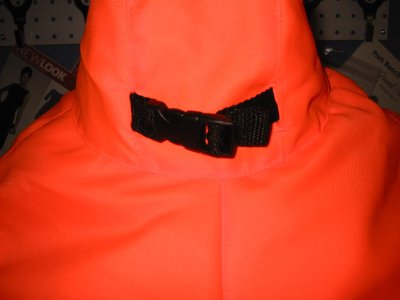 The instructions call for an internal band, but I wanted to be able to cinch the hat while it was on my head, so I left a half an inch or so of the rear crown seams open and threaded nylon webbing through them. A one-half inch nylon buckle allows plenty of options for adjustment. The underchin strap adjusts with a cordlock; see how I made it by reading this tip.
Hats like these were worn by fishermen in storm conditions (and may still be?); their best feature is that lengthened brim in back, which sheds water. That's the feature I like best on my hat, too: that sweeping brim keeps the sun off the back of my neck.