Vogue 8657, Judi Dench, and Me
April 22nd, 2010
Warning
: Undefined variable $comments in
/home/public/wp-content/themes/inove/single.php
on line
18
Leave a comment
Go to comments
OK,  so there are several problems here.  The first is what I have in common with Judi Dench.  Dame Dench has been quoted as having said (either to Charlie Rose or to USA Today, I can't seem to track it down):
In my mind's eye I'm 6 feet tall and slender as a willow, and I'll go through life like that.
She is five feet, one and three-quarters inches tall  (156.8 cm).  I am five two and a half (158.8 cm).   Not unlike Judi Dench, in my mind's eye I am six feet tall (182.9 cm) and a Swedish Amazon.  This is possibly why I am drawn to patterns like Vogue 8657: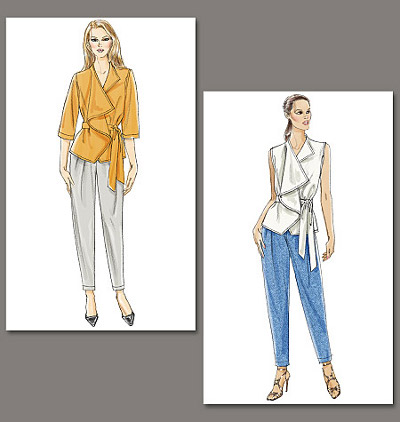 See those proportions?  I'm not sure any  human possesses them, but I can tell you, definitively, that no person of approximately five feet, two inches does.  But if I were six feet tall  .  .  .
And then there's the question of my bust.  It is not the bust of my youth; without going into too much detail, it is not even the bust of my early 30s.  I am still essentially proportionate — for a person five-two, not for an Amazon — but my bust has become round.  And bigger.  Substantially bigger.
Don't get me wrong. I like my body.  It's the only one I have, and, really, I'm fine with it.  But I'm a little confused about how to clothe it if I'm not wearing t-shirts and jeans.
One recent pattern works pretty well, and I think I know why.  It has a long skirt with a lot of character, and what you see are proportions created by the dress.  It's an illusion; it's not me.  (But I like it!)  Vogue 8657 achieves no such sleight.
So here it is: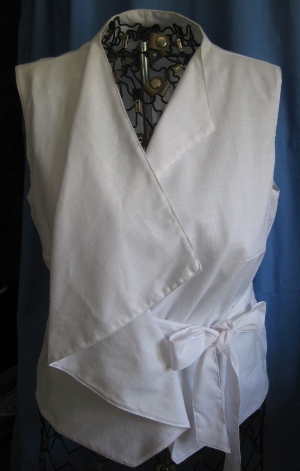 It turned out fine, in the sense that it fits.  I cut a 10 everywhere but the bust, but it's borderline too large, and if I keep losing weight, I'll have to move down to an 8.  I cut a 12 in the bust, and moved the darts down a little less than an inch because   .  .    well, you know why.
You probably noticed right away that the proportions of this top have nothing to do with the elongated version in the illustration.  My top — the real one — is squarish, not an attractive rectangle.  Not the attractive rectangle that would lengthen the appearance of the body, for example.
And there's another problem:  When you put a largish, roundish bust into a squarish, boxy-ish blouse, you get  .  .  .  formidable.  In this case, not formidable as in "awesome", but as in "bust like the superstructure of a battleship".  On a dinghy-sized rowboat.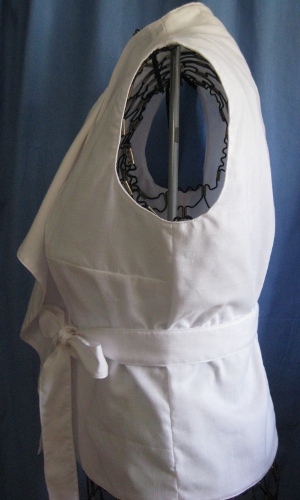 So the envelope fails to illustrate the top accurately in terms of aspect ratio.  And that lovely drape sketched so nicely by Vogue?  Well, the back of the envelope fails to mention that this top is entirely self-lined.  I used an extremely light — almost handkerchief light — rayon blend.  Doubled, it folds; it does not drape.  If you want flow, you'll need to use the thinnest silk you can find, or chiffon.  Or change the construction completely by not lining it.
Other issues:  There's a long buttonhole, through which the sash threads.  For some reason, it's placed above the waist.  Which means, in my case, that my waist would get completely lost, and my bust would have a tie more-or-less right under it.  Not good.  I lowered it.
Also, if you use the spot Vogue appear to have marked for placing the single snap, you won't be able to use the sash, because the snap is right smack in the way.  What's up with that?
The buttonhole foot on my main machine won't make a buttonhole as long as this one needs to be.  (I could do it with the machine, guiding it manually, but I'm not that brave reckless.)  This blouse wasn't "bound-buttonhole-worthy", so I just faced the two buttonholes (one in the main fabric, one in the lining), basted them together once the blouse was done, and then edgestitched all around.
I might wear it, but I don't know if I'll ever be resigned to how I look in it.  It's back to the drawing board for me, style-wise.  Grrr.