Hobonichi Techo Cover
May 20th, 2022
Warning
: Undefined variable $comments in
/home/public/wp-content/themes/inove/single.php
on line
18
Leave a comment
Go to comments
For the past few years I've used a Japanese Traveller's Notebook as my daily diary. I liked it, and it was a useful tool while I tried to figure out what I really wanted and needed, but this year I ended up with a Hobonichi Techo — the smaller of the Japanese Hobonichi datebooks.
A representative page, with privacy redactions.

I love this thing! It's exactly the right size for everything I want to record. It's made of special, super-thin, super-strong paper (and costs like it!), so it's light and durable. And I can write in it with my tiny fountain pen!
Because I use a couple of accessories — that fountain pen, for example — with my Techo, I needed a cover. I bought one from Etsy, which was very well made and clever, but it was made of quilting cotton, not washable, and was too bulky for long-term use. I knew I'd eventually have to make my own. That was all right — making this kind of cover wasn't completely unfamiliar. I'd made an ultrasuede cover for my previous Traveller's Notebook: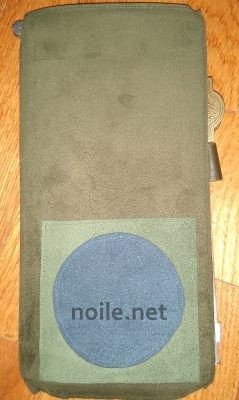 And many, many, years ago I'd made a book cover, also from ultrasuede scraps: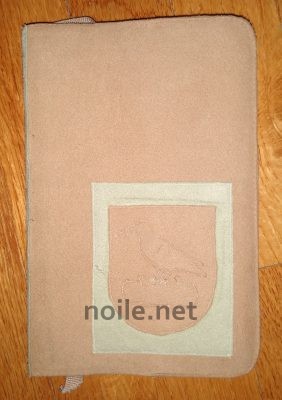 (This book cover has been everywhere with me! It's got a few dings and scratches, but it's held up amazingly well.)
One day, having become completely fed up with not having made a proper cover for my 2022 Techo, I hauled out my ultrasuede scraps and went to town. I've since regretted my haste and impatience, but at least I have a something of a durable cover now.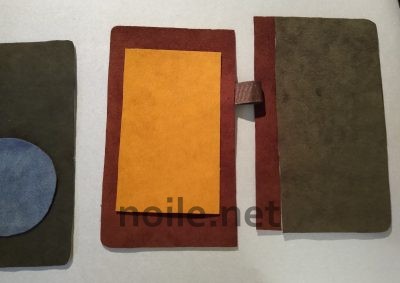 In the scraps, I found a second circle like the one I'd used on the Traveller's Notebook, and, being naturally un-gifted in the design department, I simply used it for the cover. I figured out what pockets I wanted: the butternut one on the left above is the inner left cover, and the larger brown and smaller green ones are on the inner right. The loop on the left is for my pen; it's doubled, and stitched, grosgrain.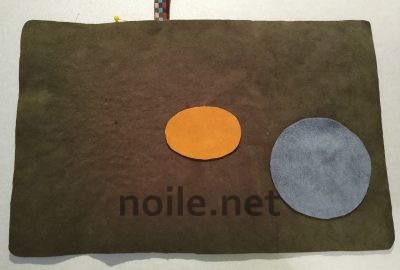 I laid the cover out before stitching it, but still managed to plan badly. I did remember to put the butternut patch on the spine — a Techo becomes really, really fat over the year, and I knew I'd need some kind of tie to keep the book together. The tie runs through that little oval patch. I also knew I'd want bookmarks, so there are three slight ribbons laid into the right back of the cover, which you can just see at the top, below.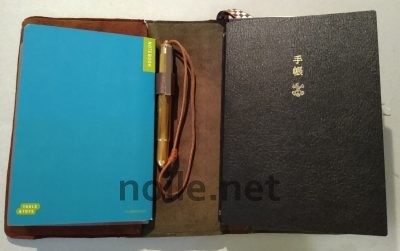 There's a new Techo each year, so this cover slips over the Techo, a sleeve for cards, and a small blue note book in which I record books read and books to buy. Next year's Techo and accompanying accessories will slip right in when the time comes.
I'd forgotten several important things about using ultrasuede, much to my unhappiness. When I last did one of these projects, I was able to use a much better quality of iron-on backing. I hate the stuff, but some kind of backing or interfacing is really necessary to allow the ultrasuede to keep its shape. I was unable to bond this cover successfully, and, as a result, I have a couple of areas where the ultrasuede stretched slightly when stitched. I hate this, but was too impatient to deal with fixing it.
I did remember that pressing ultrasuede requires a velvet-pressing type mat — something with loft, so that the nap of the ultrasuede won't be pressed flat. And that heat must be the lowest possible for the job — ultrasuede will melt!
Bonding is also important since, when sewing ultrasuede pieces one on top of the other, it's important that whatever backing you use does not show between the layers. When I've made these covers in the past I've trimmed the backing so that it doesn't go to the edge. This is good practice, and if you've bonded the backing correctly, won't affect use at all.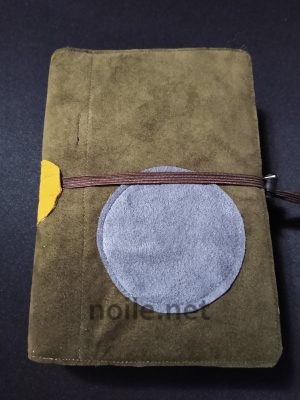 It does everything I wanted it to, so I shouldn't complain!
But I'm also annoyed at that small line of stitching just above
the cord, to the right of the butterscotch patch. It's there
because I forgot to insert the pen loop where it really belonged!

Quibbles aside, my new cover does the trick, and if I really want to, one day, I can properly plan one, start to finish, and do it up right. Can I say how much I hate the fact that I misplaced my blue moon? The closure cord runs right across it! (Also, my stitching in past years was a lot more controlled. Not impressed!) Sometimes, though, done well enough is good enough. My new cover does the job, and, for my purposes, it's a lot better than the cotton one was.