Decades of Style 5006: 1950s Stole
For a long time, I've wanted something stole-like that I could wear to spruce up basic travel outfits, and which would work as a personal wrap on a plane.  When I saw Decades of Style's 1950s stole, I knew I had to make it.
See that cool little arm flap on the right?  That's what sold me!  However, as you'll see, things didn't turn out exactly as I expected, though the end result is very much what I wanted.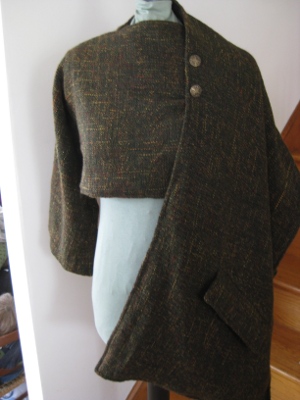 The pattern has only four pieces — one of which is sewn to the border of a large piece.  So there's the front, back, and the wrist flap; the only tricky part is keeping the pieces sorted out once they were cut.  I took a tip from Jillly Be's excellent post about her own Decades of Style stoles, and marked each piece (and its right side) with tissue paper.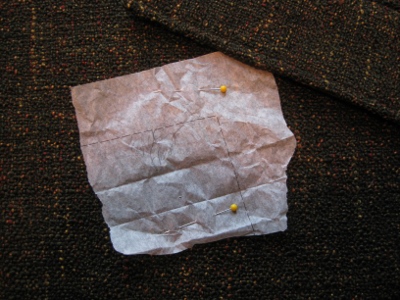 This is particularly important because the pattern pieces aren't symmetrical.  Nor is the construction intuitive, so I highly recommend not skipping this tip! Also, it's very important to note that the main fabric is cut RIGHT side up, but the lining is cut WRONG side up; a rather critical instruction that was apparently left out of earlier printings.
My fabric is a lap robe rescued from an IKEA "as-is" bin.  (Gotta love IKEA!)  In some respects, this material is the worst possible for a stole — it's extremely subject to pulling and forming awful loops, so I'll have to keep my eye on it and catch them as they occur.  On the other hand, I fell in love with the fabric's light weight, its soft texture, and the excellent tones, which will work perfectly with every color in my winter travel wardrobe.
The flap that I was so thrilled about (so 50s!) covers an opening in a seam between the upper back and the lower back.  You're meant to wear the stole with a wrist slipping though it.  As well as that may have worked at social events in the 1950s, when women may have delightedly posed for effect while conversing — cigarette poised in holder — at cocktail parties, that wasn't going to fly in my life in the 21st century.  I need that arm!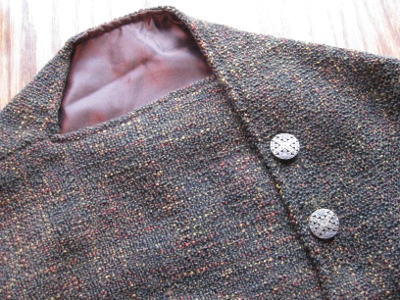 (Yeah, that lining hasn't recovered from being crumpled in a packing cube.)  Jilly Be also wrote about being concerned about the wearability of this stole.  In an amazingly courageous act, Jilly added buttons and buttonholes to one side so that the wrap would stay in place.  I followed her sensible example, but sewed over-sized snaps under the buttons.  No way was I brave enough to put buttonholes in this material!
A secondary advantage of adding the closures is that it makes it much easier to figure out how to put on the stole.  That's surprisingly difficult the first few times it's done, but using the buttons for orientation is very helpful.  (The lining is a satin backed with cotton, for a little extra warmth and heft.)
Mr. Noile and his mother — we were visiting the parents when I sewed this up — took one look at the flap and suggested I turn the opening into a pocket.  Brilliant!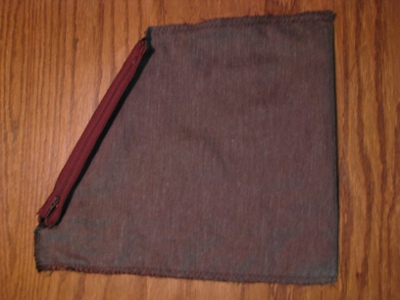 That's exactly what I did.  It was an after-market hatchet job, and not at all elegant, but it worked perfectly anyway.  I cut the pocket from lining material, added a zipper so that nothing would fall out (and to support that seam when the pocket was in use), and tacked it into place behind the flap by hand.
My e-reader just fits in the pocket; I wouldn't walk around with it in my pocket, but it will be really convenient to have a safe place to stash it while traveling, since I'll be able to put the reader down safely while briefly doing something else, like eating.  I hate using airline back-seat pockets, not only because they are probably filthy (used diapers, anyone?), but also because stashing anything there increases the chance I'll leave it behind.
The pattern is terrific, and I highly recommend it.  Beware, though, that this is a midriff-hugging stole; the drawing is quite accurate.  It will cover your bust, but nothing below.  If I make it again (and I might, in a more durable linen), I may increase the front length.
Sizing is atypical, which you'd expect from a vintage pattern.  Following the chart, my correct size probably should have been A, but I made B instead, which was just right for my slight-ish C bust frame; size A was right for my frame, but a little tighter than I liked across the bust, and there wasn't enough difference, otherwise, between the sizes to require alterations.