Paper Modness
Shams, of Communing With Fabric, has a post up today about two surprisingly chic dresses made from candy wrappers, which reminded me of this post, which has been languishing in my queue since February.  This particular dress isn't exactly made from wrappers, but it is made of paper — more or less.  The image is, of course, Andy Warhol's iconic Campbell's soup can: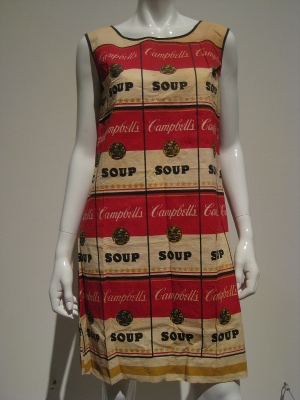 I saw it in the Heard Museum in Phoenix, Arizona.  According to its website, the Heard is "one of the world's finest destinations for learning about American Indian arts and cultures".  Where Polish-American Andy, or, for that matter, Campbell's soup, fits into this mission is unclear, but nevermind .  .  .
In the late 1960s, soup lovers could acquire this dress by sending in a couple of Campbell's labels and a small fee (a dollar, I believe).
Note the dart — both placement, and construction: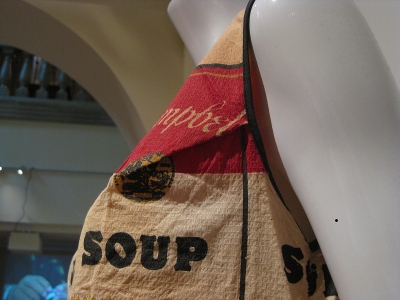 It's sort of an interesting take on a one-dart-fits-all approach:  The dart is really just a pleat.  This works on a mannequin, but I suspect it just "poufed" in the wearing.
The late 60s were a great era for paper clothing.  I have a paper sari from around that time which was given to passengers by Air India; it's rather charming, actually, though, of course, completely impractical as a garment.  How times have changed!  Now the best you can hope for on a plane is a cardboard sandwich.  If you're lucky.
The Heard Museum seems less like a museum and more like a showcase for contemporary artists whose work is on sale, but that's not all bad; it's filled with interesting artifacts, and worth a trip if you find yourself in Arizona — which I hope you don't, at least until the state legislature acquires some semblance of sanity and does a little productive soul-searching.