Vogue 8712: Move over, sweats, there's a new kid in town!
After seeing Sham's Vogue 8712 pants, I knew I had to have a pair!  They looked perfect for a week in the desert — my least favorite environment ever — and I figured that they were simple enough that I could whip them up fast before a sudden, unexpected, trip to the Sonoran desert of our own west.  (It's winter in our deserts now, so shorts were not on the agenda.)  Front view: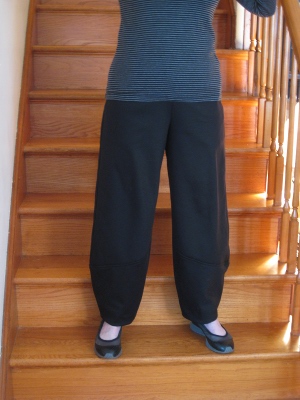 Like Shams, I eliminated the zipper.  A zipper front fly on knit pants?  It boggles the mind.  Not to mention that it's completely unnecessary for fit. Back view: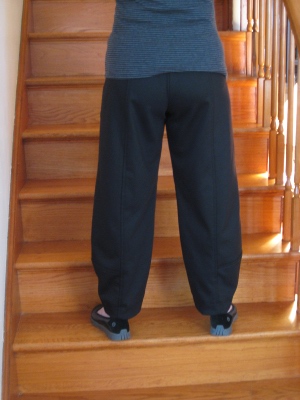 Vogue said that I should cut a size 14, so, naturally, I cut a 10.  It fit perfectly out of the envelope — although I did shorten the legs by three-eighths of an inch.  (Don't ask.)  These pants are just past ankle-length on me; I'm five foot two inches tall.
I made these out of a ponte I bought from Kashi at Metro.  This was the first time I'd gone near a fabric like this in a long, long time, but, under Sham's tutelage, I figured  I should give it a shot.  This is NOT the synthetic knit of yore!  The fabric was a dream to sew,  and even dreamier to wear.
My next version will be in a cotton knit, for actual summer here on the east coast.  These pants offer all the comfort of sweatpants, but without the slob factor, and they come out of a suitcase as if they've just been pressed.  They whip up very quickly, and they have pockets!   I'm planning to live in these every day.
By the way, see the shoes?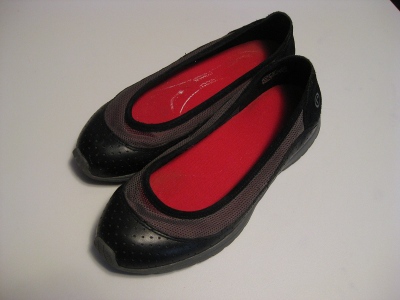 They're Rockports, and machine-washable.  The liners come out and rinse and dry quickly.  I pack these as a second pair of shoes when I'll be in warm weather.  They're great as "slippers", too, if you've been walking in more substantial shoes all day.
On a trip like this one, when I went from 16 degrees to 75, I wear my Keen sandals with wool socks to get through the snow (works a treat!), and then wear these or my Keens, sans socks, for the serious walking once at the warm-weather destination.  Although I didn't happen to wear them on this trip, these little flats would have been fine for any day I'd wanted less clunky foot gear, and they're great with skirts and dresses, too.  I love having them along as an option.