Carry-On Only Travel
Sewers, I am back from a travel-mad summer and fall, and determined to write about luggage and packing.  Ignore this post if you prefer — I've got a bunch of real sewing articles lined up, which will shortly begin appearing.   Everyone else, have at it, but be warned this is a long post!
This past year has been a wild one for travel, with three major (unexpected!) trips.  From my east coast home I've been to San Francisco and northern California; lapped Toronto/Newfoundland/New York during a single trip; and traveled to Budapest, Hungary on another, not to mention a lot of shorter trips to a bunch of other places. The least duration of the big trips was about two weeks; the longest nearly four. All with only one small suitcase.
When I fly, I travel with carry-on bags only, and until you've done that, you probably can't imagine the sense of freedom not checking luggage offers!  Here's how I do it.
I take one carry-on, and one "purse" or personal bag; that's it.   My carry-on suitcase is small enough so that there's no dispute about whether it is "legal" or not.  Mr. Noile now does this, too, so the trips we take together no longer involve any waiting at the luggage carousel.
Here's our total combined luggage at the end of our nearly two-week-long trip to Budapest.  My carry-on bag is at the left rear, with my "personal" bag in the front (it's overstuffed with ten BurdaStyle magazines I found in Budapest, some sewing notions and a few small gifts).  Mr. Noile's bags are to the right.  This is all the luggage we used for two weeks of travel to Eastern Europe.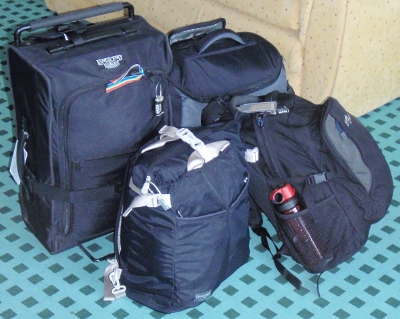 My suitcase is over 16 years old — maybe closer to 20.  I bought it at Lands' End (a place I no longer shop now that Sears owns it), and it has seen me through hundreds of thousands of miles of travel — many, many trips annually for each year I've owned it, through Mexico, Europe, Canada and all over the United States.  I haven't found anything on the market that I like as well, and I'm dreading the day when I finally have to replace it.
This particular bag is 22 by 14 by 8 (inches), and yes, it has wheels.  (I have problems with my arms, and wheels are not optional for me.)  The wheels are small but strong, have (clearly!) withstood the test of time, and the bag is designed so that they take up minimal room both inside and out.  Even in Europe, I wasn't asked to put it to the bin test; it was obvious that it would fit easily overhead on all but the smallest planes.  And so it did.
The month-long trip involved the most extreme fluctuations in temperature, so the following list of items I packed  includes everything I took for that trip, with notes for what I switched out for the less-complicated travel.  This most challenging trip also involved several radically different environments:  temperatures ranging from 30-40  degrees, daytime, in the first, 85-90 degrees in the second, and a third one of temperatures around 70.  It was casual travel, but I needed to look nice some of the time. On the other hand, my clothes need to be optimally functional, too.
I packed almost exactly the same items for each trip of the three trips, with minor changes noted below.   Here's what I took in my carry-on for this trip (and what I take for virtually all trips):
2 technical shirts, long-sleeved, quick-drying, breathable synthetic blends (my favorites have zip-open vents for hot weather wear) ( I eliminated these in Hungary; I use them to avoid sun on my arms, or to layer.  Hungary was neither hot enough, nor cold enough, to require them.)
1 sleeveless shirt, same as above, dries in a few hours (eliminated for Hungary and San Francisco)
6 tops, 3/4ths length sleeves (the ones I'm using currently are a blend of rayon and cotton with a touch of spandex) most serious travelers would take only 3, but that would require doing a "sink laundry" every night, and I'm just not up for that
1 pair "hiking" trousers in technical fabric; convertible to shorts (for cooler weather, I just wear black stretch jeans)
1 pair dressier trousers with "hidden" zip-off legs; convertible to long shorts, expensive and well-made enough that the hidden zips look like a design feature ( for more casual travel, these would be second pair of black stretch jeans)
6 bras (unless it's winter, and I can get away with just wearing supportive camisoles.  I hate bras.)
6 stretch nylon camisoles (for first layer cold weather wear)
6 pair briefs

1 pair technical "longies" (colder temps only)
4 pair heavy Smart Wool hiking socks
4 pair thin Smart Wool socks
swimsuit/cap
1 cotton long-sleeve v-neck tunic for sleep and lounging (or short-sleeved, over-sized tee for hot climates)
1 pair all cotton men's boxers as pj bottoms, combined with over-sized tee (on cooler trips, I replace these with thin leggings for sleep and lounging)
1 light weight, technical fabric, pullover knit  hoodie for layering
1   fleece hoodie (zip front style), with extra long sleeves, and a longer torso
1 windbreaker with hood, technical fabric OR a technical rainproof raincoat (to layer over the fleece in rain or cold weather)

1 Buff convertible scarf/hood/neckwarmer (worth every penny — shop around for design; my black-on-black is discreet enough that any adult could wear it, which is more than you can say for some) I keep one of these handy even at home; it can make a huge difference in comfort if the weather changes suddenly; if wind kicks up; or if a jacket alone turns out to be not quite enough.  Mr. Noile has commented that my buff makes my shirts look quite a bit dressier, too, when worn as an impromptu  collar.
1 pair technical gloves (very thin, with grippy fingers; mine must let me use my small camera while wearing them)
1 packable sun hat (only if climate indicates; otherwise, a beret or other hat for warmth or sun protection)
1 pair waterproof hiking shoes these go in my "personal" bag, and guarantee extra attention from TSA.  It's probably a better idea to wear them than to pack them, but I much prefer slip-ons for TSA screenings (on urban trips, I eliminate these)
1 pair Keen-like fisherman-style sandals (can be worn with with or without socks) (Keens don't fit me — sob! — so I have to find good fakes) (in cooler weather, I wear Clarks of England instead, lately this model "Maggilyn" which was incredibly comfortable for miles of walking on cobblestones and broken sidewalks all day long in Budapest, even though they're amazingly lightweight)
1 extra-large technical towel (super water absorbent, dries very quickly, full body coverage — microfiber, not the old-style)
clear plastic pouch with TSA-compliant fluids

mesh toiletries pouch (it's the striped one in the picture at the end of this post, striped for easy identification) with items I didn't include in the fluids bag, or in the small kit in purse; these include a flat vinyl sink stopper; tiny alarm clock; tiny reading light; a travel clothes line; a small sewing kit with pins, extra buttons, etc.; any medications or vitamins; one of these small cups so that I can take meds or a quick sip of water in a bathroom, conveniently.  (The cups are called "travel shots" and hold 1.5 ounce — I doubt that they enhance an alcohol experience much, but they are great for travel.)
a Swisscard, which I carry every day in normal life, and is, at least at the moment,  TSA and CATSA compliant.  It fits in a credit card slot in my wallet.  I use this thing every day, even in real life.
1 heavy-duty, zippered, nylon tote bag which I always pack in the front zipper pocket of  my suitcase.  It can function as a shopping bag, marketing tote, a picnic bag or a spare suitcase if necessary (works on trains, would be a bit more problematic on a plane if I filled it on the trip, and still didn't want to check my suitcase — in that case, I ship the excess.)
Here's how I dressed:
For the coldest outdoor weather on this trip (30 – 40 degrees) (10 days), I layered my torso clothing like this:  camisole/3/4ths sleeve shirt/LS shirt/knit hoodie/fleece hoodie/windbreaker.  I was plenty warm, even when wet.
My head was covered in 4 layers:  Buff/knit hoodie/fleece hoodie/windbreaker.
My lower body was covered in the usual panties-technical longies-khaki trousers.
In the colder climate, I stripped off the extra external layers once I came indoors, changed to my stretch technical trousers, and pulled my knit hoodie on over my 3/4ths sleeve shirt.  My black knit hoodie — a "better" brand with a slim cut and whose quality was obvious — and black technical pants had the virtue of looking a bit dressier than the khakis I wore outside.  I could go to dinner and not look woefully under-dressed.  Indoors, I switched to the Keene-like sandals with the thinner socks.  I could have upgraded by act by wearing the ballerina flats, since I had them along, but I didn't bother.
In the hottest climate (85 degrees) and during a few days of milder weather elsewhere (70 degrees), I zipped off the legs of my trousers, and wore either my sleeveless top (with or without an open LS technical shirt over for sun protection), or just one of the 3/4ths sleeve shirts and standard undergarments.  I wore the Keen-like sandals without socks.
In all weather, I slept in the boxer shorts and the LS cotton tee (or the tee tunic and leggings).  If' I'd been cold, I could easily have slipped on my fleece, especially since it wasn't my outer layer (and so stayed quite clean).
I ALWAYS pack the flip-flops!  I wear them in any and every shower wherever I go.  If conditions in bathrooms or showers prove to be worse than I expect, it doesn't matter — my feet never touch the ground.  Ditto for hotel carpets — with the flip-flops by my bed, my feet never touch the awfulness that lurks there.
I pull whatever I wear on the plane from this list.
Everything gets packed in organizer cubes, by type — outerwear in one; tops in another; undergarments in another, etc..  Chargers all go in one small, zippered mini-cube.  Here are the cubes, packed, stacked in front of the suitcase.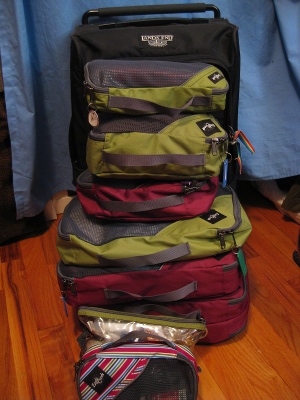 Yes, every one fits into my suitcase!  The miracle of packing cubes cannot be over-stated.
My "purse" or "laptop" bag is an Overland Equipment Cambridge — an older version than the one now available (and I  like it better, because I hate front flaps like the one on the new version).  (Not to mention that I totally  hate that —  unnecessarily heavy — leather patch on the edge of the flap on so many of Overland's bags.)  The Cambridge is a great convertible bag with really well-designed internal pockets for a laptop and more.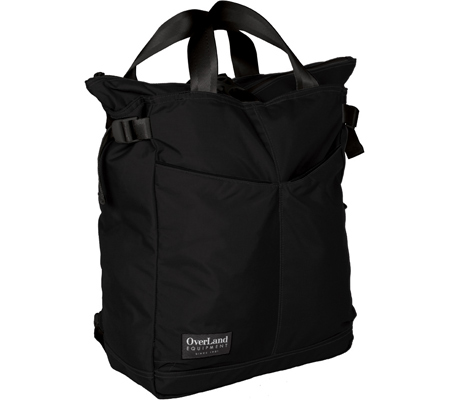 It can be carried as a tote, slung over the shoulder, or worn as a backpack.  The handles are adjustable; the sides cinch or expand, and there are efficiently designed shoulder straps hidden in the back panel — into which maps can be tossed for easy retrieval.  It's absolutely perfect for my purposes.  I can get to anything I want in it easily, and can get my electronics out of it fast for TSA.
Inside this personal carry-on I pack:
1 eeePC ASUS computer and components
1 e-reader (Sony; it's slimmer and lighter than others and I'm not tied to a proprietary store for books)
1 pocket digital camera
1 mobile phone
1 mesh pouch with electrical components including a double-headed outlet extender, two-prong outlet adapter, and all chargers needed for equipment, including an extra camera battery
1 pair spare glasses
an alarm clock (mobile service is not infallible)
a watch (for the same reason)  (I will probably wear the watch, but pack it for TSA)
a small travel light for reading if electricity fails AND a mini-led-flashlight
all paperwork, itineraries, ticket pouch, contact information, etc., spare vision prescription, any other prescriptions
passport, ID, small note book and at least two pens, business cards
instead of a wallet, this Baggallini Everyday Bag, with the strap replaced by a knife-proof pacsafe CarrySafe 100 strap. Wworn with the strap cross-body, this combination offers all the advantages of a fanny pack without the horror factor: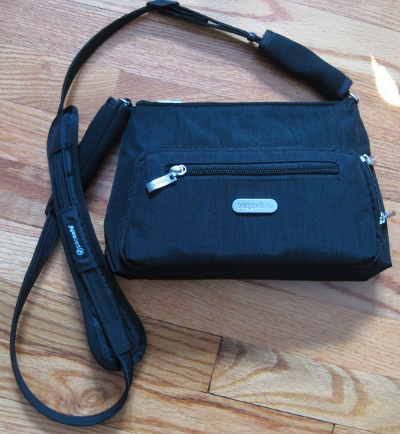 cash (which I also wearing in my travel wallet/belt, under my clothes — my passport will live there while I'm traveling)
a small toiletry kit, packed so that I can wash up, or even launder my clothes, if I end up the protagonist in a travel agony story and stranded overnight where I hadn't planned to be.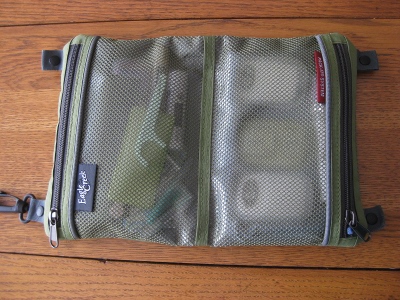 In it:  dry soap leaves; dry laundry detergent leaves; a tiny microfiber wash cloth (MSR personal — it's about 12×9.5 inches); a toothbrush and small tube of toothpaste (retrieved from the TSA bag after security), tiny travel deodorant (ditto); lip balm;  EARPLUGS!; any anything else that seems like a good idea.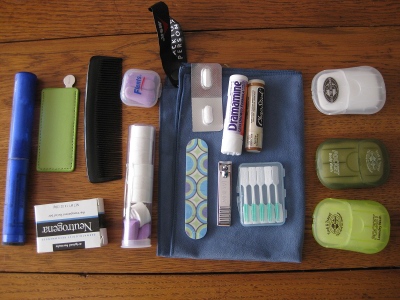 a relevant guide book, or, usually, the relevant Moleskine city book and any directions or pocket transit maps I'm likely to want
an extra, thin, larger size Moleskine notebook; also a couple of smaller mechanical pencils for museums where note-taking with pens isn't allowed (no sharp points with these Pilot minis)
I also carry a thin pass case on a leash that I use for transit passes; I pin or clip it into a pocket and can easily grab it, use the pass, and replace it without ever going into my bag
a water bottle, empty if I'm going through TSA.  On the plane, I ask the attendant to put my beverages into this water bottle — less messy all around.
Here's what it all looks like, packed up and ready to go, hat jauntily posed on top: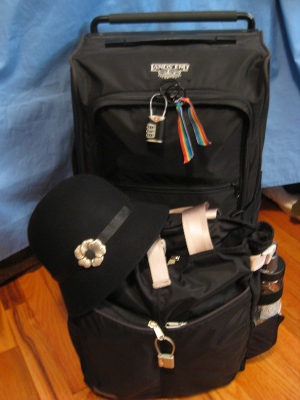 One day, I'll be carrying only clothes I've made, but that's going to require some serious planning — and it will never involve the most interesting pieces in my wardrobe, for obvious reasons.  For me, travel is all about comfort and practicality, not style or statement.  The focus is on the experience; I don't want anything coming between me and the new world I'm entering, so my clothing and luggage are the last thing I want on my  mind.  That's why I love this system — it's totally liberating!
I've won Mr. Noile over to this kind of packing, but our daughter, Noilette, who is an inveterate traveler (Mexico, Haiti, US this year; Israel, Switzerland, Mexico, US last year)  won't carry-on anything.  Go figure.
Disclaimer:  This is a hobby blog; I receive no compensation of any kind for any endorsement.  Opinions are my own.  Links are to Amazon (for the most part) because most manufacturer's websites stink, and it's not easy to make a link to a viewable product.
Related: My New Bag: ZÜCA Sport Pro Review